Building Standards
Section 63 of The Climate Change (Scotland) Act 2009
February 12, 2020 by Michelle Williamson No Comments | Category Building Standards, Climate Change
A blog by Gillian McCallum
Climate Change is one of the most critical issues the world is facing and, in response to the global climate emergency, Scotland has set the most ambitious statutory climate change targets in the world; committing to net-zero greenhouse gas emissions by 2045.
Later this year Glasgow will host the UN Climate Change Conference, COP26, providing Scotland with a unique opportunity to promote to the world's nations our aspirations and determination to address climate change.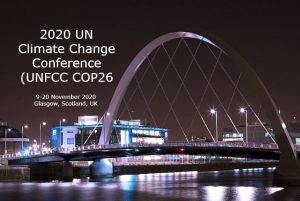 As part of Energy Efficient Scotland Programme, Building Standards Division has an important role in supporting Scotland to meet its legally binding targets.
What contribution are we making making?
In tandem to our review of energy standards within building regulations (a future blog topic) we are leading on the work to improve the energy performance of our existing non-domestic buildings under section 63 of The Climate Change (Scotland) Act 2009, reviewing regulations which were first introduced in September 2016.
Non-domestic buildings cover all buildings that are not dwellings and there are around 200,000 of them in Scotland. From hospitals and shopping centres down to small offices and shops, the diversity of the non-domestic stock in terms of use, tenure, construction type, age and energy profile mean that setting standards for improving energy efficiency which are both stretching but achievable will be challenging.
In December 2019, we commenced an Industry Working Group to review these regulations, evaluate how well they are working in practice and what we can do to improve them.
The review is looking at all aspects of existing regulations:
• What triggers the requirement for a building to improve its energy performance?
• What level of improvement is technically feasible?
• What is the cost of implementing improvements?
• How will we expand the scope of the regulations to cover all non-domestic buildings? Currently regulations only apply to those over 1,000 m2
• What reduction in greenhouse gas emissions is achieved across the stock?
We will publish a consultation on proposals this summer with the intent of introducing the new standards next year and we will want to hear your views.
To keep in touch with change being developed and delivered under the Energy Efficient Scotland Programme, go to https://www.gov.scot/policies/energy-efficiency/energy-efficient-scotland/
Comments