Building Standards
House Builders Survey
February 18, 2020 by Michelle Williamson No Comments | Category Building Standards, Publications
A blog by Eilidh MacPherson
Building Standards Division (BSD) is currently undertaking a research project around compliance of Section 6 Energy, of the Technical Handbook, focusing on the building fabric performance.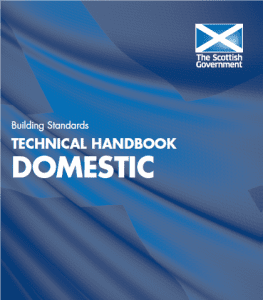 In 2019, The First Minister declared a global climate emergency and there are increased demands to rapidly reduce carbon emissions across all sectors of society. It is acknowledged that previous revisions to the energy standards has resulted in a stepped change in the energy efficiency of new homes. However, we still seek to improve the energy performance of our new buildings further.
Work is underway to establish the next set of energy standards that will take effect in 2021 for all new buildings. In addition to increasing the standards that new buildings must meet, we also need to increase assurance that current energy standards are being met and the 'performance gap' between designed and constructed buildings is reduced.
A survey has been put together for house builders to find out more about what compliance inspection and testing regimes are currently used on site to support compliance of the building fabric. The intention is that the information collected will contribute to the development of guidance to improve compliance with the energy standards and reduce the performance gap.
If you are a house builder we would appreciate it if you could take the time to complete this short survey. Thank you for your time, this should take no more than 15 minutes to complete. The closing date is 13th of March.
https://www.surveymonkey.co.uk/r/26V3SJP
Tags: buildingregulations, buildingstandards
Comments