Digital
Citizens Advice Scotland announced as the 500th signatory of the Digital Participation Charter
April 5, 2018 by Stewart Hamilton No Comments | Category Digital Participation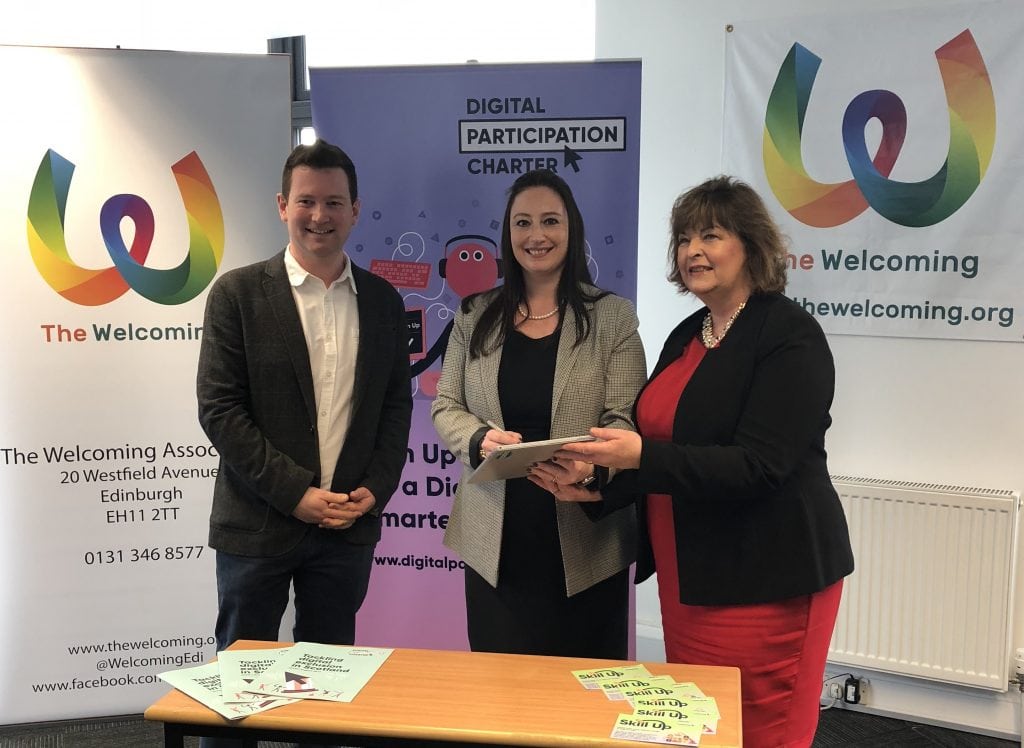 Last week, Fiona Hyslop, Cabinet Secretary for Culture, Tourism and External Affairs, announced that Citizens Advice Scotland (CAS) was the 500th organisation to sign up to Scotland's Digital Participation Charter.
We asked Karen Nailen (centre of picture), CEO of West Lothian Citizens Advice Bureau (CAB), to tell us what signing the Charter means for CAS.
"As CEO of West Lothian CAB my service sees a lot people come through the door who are struggling to engage digitally – either because they can't afford to get online, have poor connectivity or lack the skills or confidence to do so. This causes clients in West Lothian huge problems in terms of accessing services, claiming benefits and can often be excluded because of this.
I know from speaking to my fellow CAB managers, and from CAS research, that these issues are replicated nationally. 34% of people visiting Scottish CABs have no or limited ability to use the internet and 64% benefits claimants need help to apply for their benefits online. We have a national reach: with almost 300 locations across Scotland, we help one in fourteen adults every year. Alongside helping these people solve their immediate benefits, work or money problems, the CAB network is ideally placed to help make sure all Scots are connected to the opportunities that the digital world provides. So, we need to find ways to support our clients to make the most of this world, while managing the immediate issues facing them – not always easy in a busy service environment.
CAS and the Charter
As a trustee of Citizens Advice Scotland, signing up to the Digital Participation Charter is our first step towards supporting the Scottish CAB network increase its own digital capabilities. We may not be able to directly work with people struggling to get on line, but we can make a start by helping the 3,000 staff and volunteers within our network feel more digitally confident, so that they in turn have the skills to support clients to get online. We have made enhancing digital skills one of the objectives in our new strategic framework and we're going to continuously measure how well we're doing this.
Increasing digital skills can make a difference
I know from experience that the increase in digital skills can make a huge difference – after working a manual job for many years my Dad didn't have any digital skills and no access to a computer. After receiving the help that he required he can now do some on-line shopping, booking holidays, stay in contact with family members who live abroad and now sending e-mails, he now has his own laptop that he uses daily. He even recently changed energy supplier on-line and saved over £60 per month.
"What I've learnt is that addressing digital inclusion is something that takes a conscious and concerted effort from each and every individual and organisation. If everyone were to make a small commitment and follow that through, together we can make a big difference. If you haven't already done so, I would urge you to sign up to Scotland's Digital Participation Charter, and make that first step today."
Comments