Digital
Why I thought Agile was a fad and why it's not – Scottish Digital Academy
September 30, 2019 by Enoch Kabalo No Comments | Category Digital Scotland
Have you ever wondered what is Agile? And whether or not it's a fad or if it's here to stay? Find out what our guest writers Jen and Hilary had to say about their experience prior to attending one of our courses as well as what they had to say after.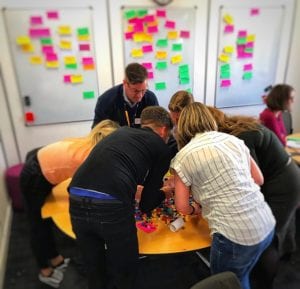 Jen Mcleod, Scottish Government
"If you think a 'scrum' is only something on the field at Murrayfield or a 'sprint' is something you see on the Champs-Elysees in July welcome to the world of Agile! We have seen a lot of sporting references creep into our business vocabulary over recent years and it's not uncommon to hear people say 'oh that's nothing new' or 'it's just a fad' or 'it won't last' etc. Wanting to find out for myself I attended the one day Agile Awareness Course
I wanted to understand what is different about Agile from other Project Management approaches and why should I need to know all of this 'stuff'. Interestingly I was reassured that it's not all jargon and buzz words. Yes there are terms you need to know and understand but this is to create a common understanding and an effective communication platform. Much more important was understanding that I do some of this already, it's a process. Some of it is a way of working, working out loud or working out in the open".
Putting things into context and understanding the full process helped me grasp how I could use the tools and techniques productively in a number of work environments.
I would encourage others to attend, nothing to fear – jump right in! It's important to remember not one size fits all and that's the point – use it where its effective."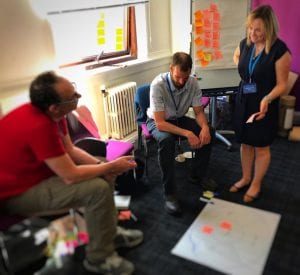 Hilary Shand, University of Edinburgh
"I was cynical that it was another methodology for Product Manager's to hide behind and blame to be honest. But I was "inspired by the hands on training approach which reflects the Agile ethos. Getting stuff done is the priority and empowering people to be passionate and prioritise with the customer in mind. So much of this course is about inspiring leadership at all levels and focusing on creating useful and practical digital services.
Attending the course put all my anxieties about Agile to rest – I left the course with a determination to make change happen faster, in line with what the customer wants and driven by passionate staff".
To find out more information about the Scottish Digital Academy and the courses we have on offer, visit our website
Follow us on Twitter: @ScotDigAcademy
Tags: Digital Scotland, Scottish Digital Academy, Scottish Governemnt
Comments