Digital
Cloud news – Your Cloud Community newsletter
December 16, 2019 by Ross Lyon No Comments | Category Cloud 1st, Digital Transformation Service
Welcome to the first Cloud Community update.
We hosted our first Cloud Community event on Thursday, 28 November in Edinburgh. This forms part of the Cloud First Programme of work.
The aim of the programme is:
To help organisations across the Scottish public sector realise benefits associated with using cloud. Sharing best practice to support the delivery of cloud-based public services. Providing access to knowledge, key skills, cloud events, training, information and guidance.
We have established a Cloud Centre of Excellence (CCoE) and a Cloud Community across the Scottish public sector to provide thought leadership and guidance to Scottish Public Sector organisations as they plan, progress and manage their adoption of cloud services. We will provide regular communication with members of the Cloud Community between events to maintain engagement, and to build momentum by sharing information about topics and upcoming events of interest.
Over 40 people attended our first Cloud Community event. We've read and considered all of the feedback with interest, and would like to thank everyone who took part. These views will guide the future agenda of the CCoE and Cloud Community and will ensure that it provides real value to the sector. Our communications team were also there filming the event and have produced a short YouTube video.
Cloud Community event feedback
During the event, we collected feedback to a range of questions to better understand the community.
We asked:
What are your expectations of the CCoE?
How can we increase CCoE membership across the public sector?
What topics would you most like to cover during the next CCoE event?
We also gathered feedback on your organisations. Specifically, we attempted to understand the current position of your organisations by asking:
How mature is your organisation's cloud strategy or roadmap?
What proportion of business systems in your organisation are currently hosted on-premises?
Does your organisation have sufficient cloud skills or expertise to move to Cloud?
What proportion of systems in your organisation are provided as Software-as-a- Service?
So, what did we learn from the feedback?
What are your expectations of the CCoE?
The feedback to this question was heavily weighted along the themes of collaboration, knowledge and experience sharing. This is reassuring, as these themes match the core purpose of the CCoE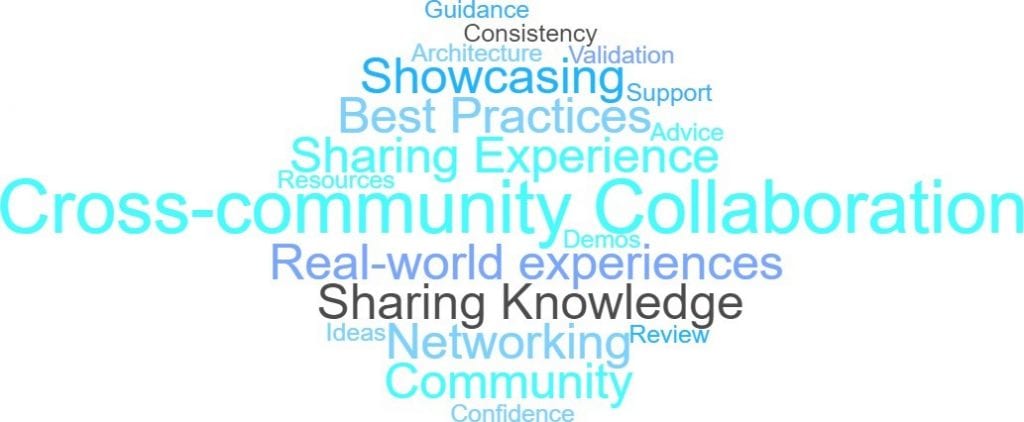 and will be fundamental to establishing a genuinely useful and productive community where members establish and maintain cross-organisation collaboration.
It is also clear from the feedback that the attendees expect the CCoE to provide authoritative guidance, support and validation across a range of concerns.
How can we increase CCoE membership across the public sector?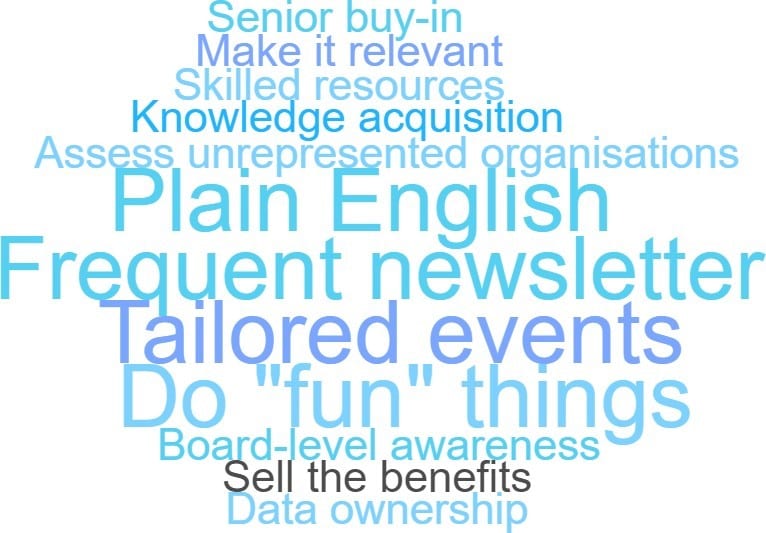 The responses to this question were interesting, and many of the themes were targeted towards engaging with senior stakeholders within organisations. Themes such as 'Sell them the Benefits', and 'Make it relevant to them' appeared a number of times. There was also widespread recognition that Non-ICT staff and Board-level stakeholders must be engaged to make it clear that cloud adoption was a business transformation, and not simply an IT transformation.
The CCoE Team are keen to increase the membership to the centre across the Scottish Public Sector. The team intend to distribute information about the CCoE and Cloud Community more widely.
What topics matter most to you?
We asked which topics matter most and what to cover at future events. We've collated a top five list of hot topics from all of the suggestions:
| | |
| --- | --- |
| Topic |     # of votes |
| Cost management |             8 |
| SecDevOps & Automation |             4 |
| Security Architecture |             4 |
| Infrastructure-as-Code |             4 |
| Monitoring |             3 |
We plan to include several of these topics in the agenda for the February 2020 event in Glasgow.
---
We also gathered feedback covering the organisations represented at the event:
How mature is your organisation's cloud strategy or roadmap?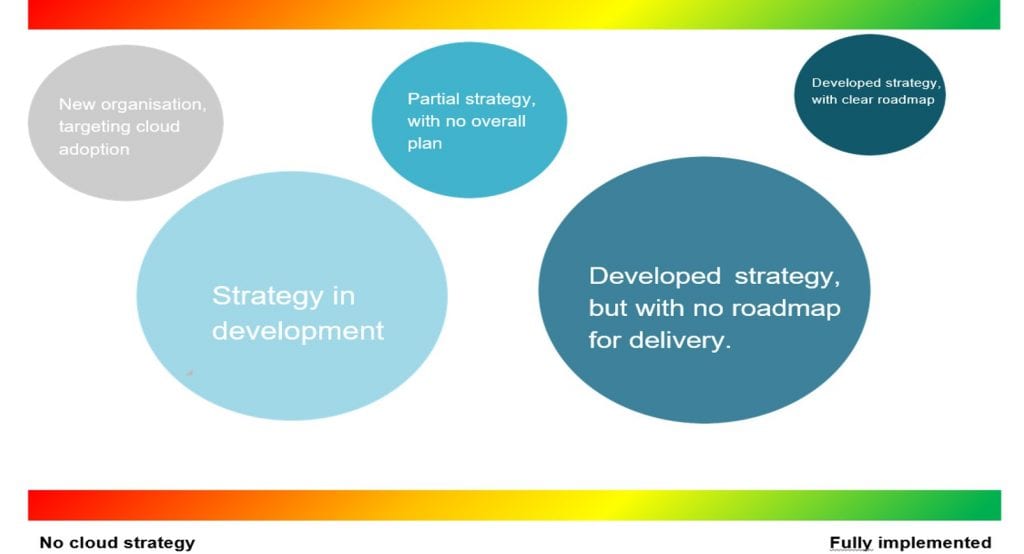 It's our experience that many organisations – both in the public and private sectors – have identified the benefits of cloud adoption as a key component of their business transformation, but do not currently consider themselves to have a fully developed strategy or roadmap.
Without a strategy or plan for cloud adoption, many organisations are either making limited progress, or feel their progress is undermined by a lack of confidence in their ability to adopt cloud services successfully. This lack of confidence is generally based on the themes of governance, cost management and cloud skills.
One of the core principles of the CCoE is to authoritatively close these gaps, to enable the Scottish Public Sector to begin confidently adopting cloud services, to deliver cost efficiencies and enable business transformation.
What proportion of business systems in your organisation are hosted on-premises?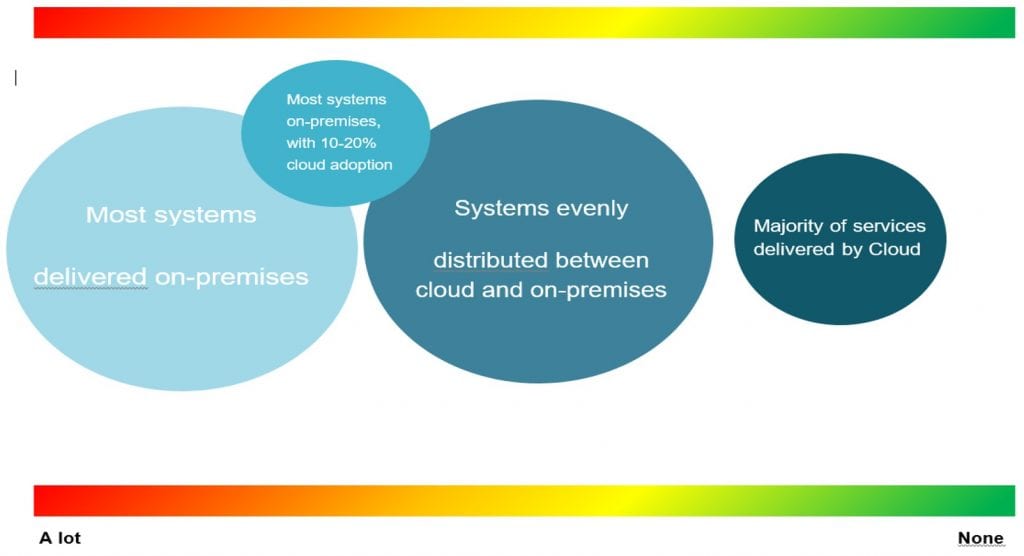 This highlighted that some of the organisations represented have reduced their on-premises footprint more than we had anticipated.
In future we intend to gather more detailed metrics in specific areas, as this feedback only provides a high-level snapshot of your current position. We intend to collect this information through further surveys, and will naturally gain first-hand experience of your organisations as you interact with us through the CCoE.
Does your organisation have sufficient cloud skills and expertise to move to cloud?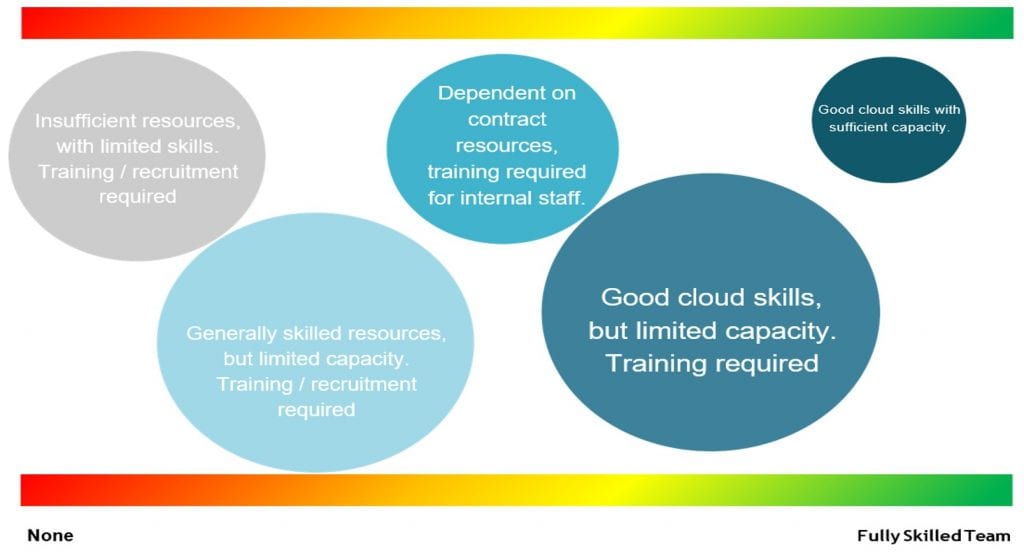 Feedback to this question clearly highlighted that organisations have identified a lack of training for internal staff as one of the principle blockers to cloud adoption. Knowledge, skilled and experienced staff are the cornerstone of any cloud adoption journey, and building skills requires both time, and an opportunity to practice them.
After training, a lack of resources was highlighted as the second most substantial roadblock to cloud adoption. This is an organisation-specific issue, but is generally caused by a shortage of budget across the sector.
What proportion of systems in your organisation are provided as Software-as-a-Service?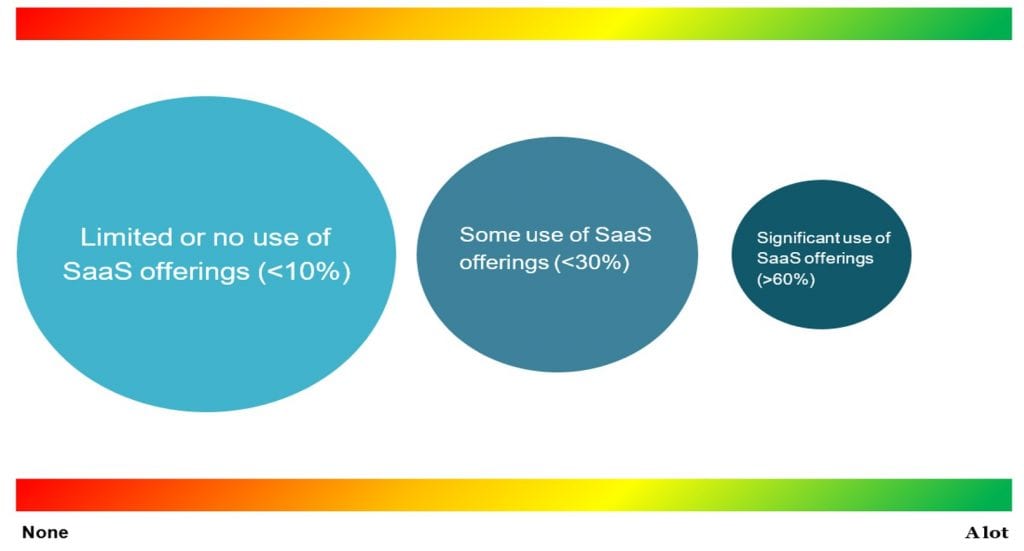 The feedback we received to this question highlighted that most organisations are only partially invested in SaaS-based applications, with the significant majority using less than 20% across their service portfolio.
The use of Software-as-a-Service offerings is expected to naturally increase over time as organisations identify the numerous benefits of these product and service offerings.
---
What's next?
The Cloud 1st Team will progressively launch the CCoE and supporting services in phases, including:
Benefits of Cloud report
The CCoE Team will release a report detailing the benefits of cloud adoption for both technical and non-technical staff. Members of the community can use the report as a reference when engaging with their organisation.
Pilot organisations
The CCoE Team will submit a business case to request additional funding to complete three further pilot engagements. Organisations have already been selected, and if approved, their successful cloud journey will be documented and shared with the community.
February Cloud Community Event
The next event is being scheduled to take place in Glasgow in February 2020. More information to follow.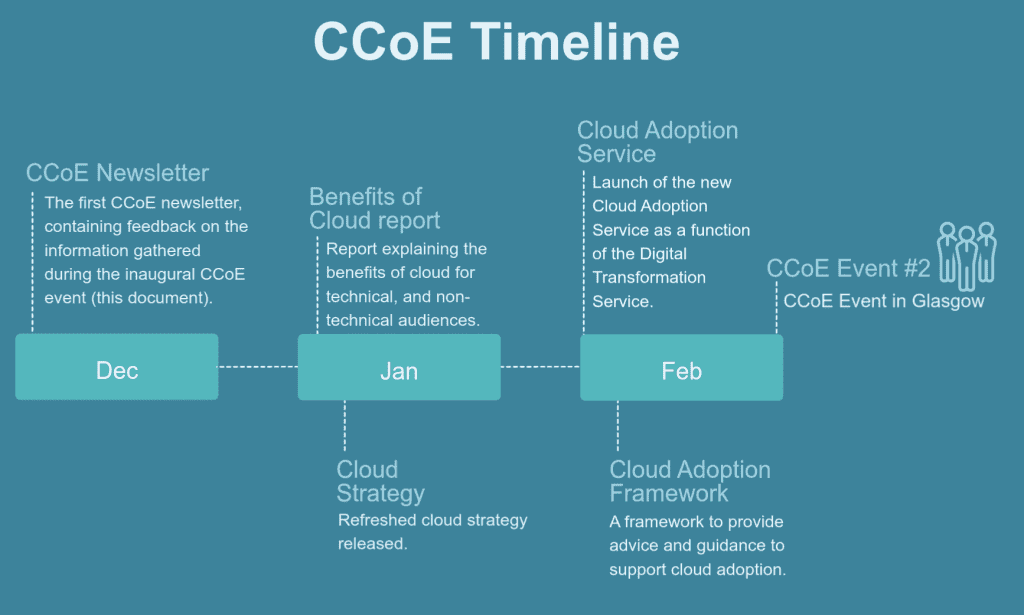 For more information or to be part of the Cloud Community, contact us at cloud1st@gov.scot.
Tags: cloud, cloud community, cloud computing
Comments