Digital
Digital Strategy Consultation – A vibrant tech sector
December 7, 2020 by Stewart Hamilton No Comments | Category Digital Scotland, Digital Strategy Consultation
We recently introduced a consultation for the new Digital Strategy for Scotland and highlighted why it is so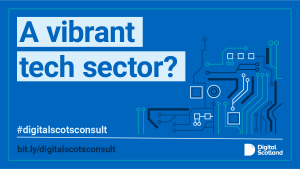 important for people across the country to have their voices heard. This is the fifth blog in a short series taking a look at the key themes raised within the strategy and why a vibrant tech sector is vital to our recovery.
The coronavirus crisis has brought into sharp focus the contribution that the tech sector has made and continues to make in Scotland, both economically and socially. For many businesses, moving online has been an essential adjustment and for our citizens a new era of online living has been normalised in a remarkably short period of time. The tech sector has adapted quickly to the changes presented by the crisis and now, in a post virus world, we have an opportunity to champion the sector.
Growing this sector gives us an opportunity to create new jobs in industries with long term growth potential and make a positive impact on climate change. Working with partners and listening to the tech community in Scotland will be vital to making progress toward this ambition.  To help us achieve this, we will implement the recommendations of the Logan Report, which was commission to review how Scotland's technology sector could contribute to the country's economic recovery after the COVID-19 pandemic.
The updated strategy discussion document outlines a number of potential actions. These actions range from the creation of new start-ups and support to develop the next generation of tech talent, testing and developing new products, processes and services based on the potential offered by 5G and the Internet of Things (IoT), expanding specialist training to provide reskilling opportunities for people whose employment was impacted by coronavirus, to maximising the economic and environmental opportunities presented by the high-quality sources of data that we have in Scotland and refreshing actions relating to our growing cyber security industry.
The pandemic has reminded us why our tech sector has a vital role to play in tackling economic and social uncertainty, now and in the future. We hope that the actions laid out in the updated strategy will guide Scotland towards being a truly digital nation and one that is built around the needs of its people.
You can view the consultation document, and have your say, here. Keep up to date on @digitalscots, and we'll report back on what we've learned in the New Year.
Tags: Digital Scotland, Digital Strategy Consultation, scotland, Sector, Tech
Comments