Digital
Celebrating Interaction Design Day 2021
October 19, 2021 by Stewart Hamilton No Comments | Category Digital Scotland
Blog by Scott Langley, Practice Head of Interaction Design in the Scottish Government's, Digital Directorate.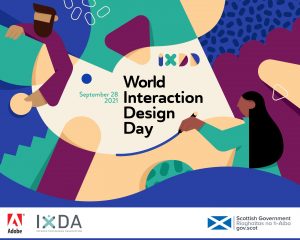 Hello I'm Scott Langley, Practice Head of Interaction Design in the Scottish Government. I head up a small team of Interaction designers within the digital directorate and a big part of my role is to help develop Interaction design as a discipline within government, working closely with designers from various directorates and outside agencies.
World Interaction Design Day (IxDD) 2021
We celebrated the IxDD event for the first time this year in the Scottish Government with a 3 day event running from the 28 to 30 September 2021. The event was online due to the pandemic and free to attend for all Scottish government employees.
The theme for this year's event was 'Solidarity and Transformation' as announced by Adobe and the Interaction Design Association. Over the 3 days, we ran 6 sessions.
Our keynote speaker was Luke Jeavons, Head of User Centred Design. Luke gave a fantastic start to the event with his opening talk on 'What is Interaction Design and why should we care?' giving a great insight into how and what we do.
"Interaction Designers think about how words, visuals, as well as aspects such as space and time, all behave together to enable an interaction to feel natural."
Next up was the Social Security Interaction design team who went into detail about their approach to making their service usable and accessible using patterns on the newly devolved benefit payments.
Other topics included:
'Visualising a future digital planning system built for people' by Alastair Mitchell
'Designing a payments service for the public sector' by Ross Woods and
an introduction to 'Accessibility' by Mark Palmer
The session I ran with Anusree Raju and Sarah Wright gave an introduction to the Scottish Government's Design System.
We wanted to give participants who didn't know what a design system was, a quick overview about it including, why we need one and a demonstration on Scottish Government's Design System.  We then highlighted some of the key components and gave examples of them in action. Finally, we reiterated the point that a design system is never finished and outlined our plans for continuous improvement.
The week was a great success and well attended by participants from a wide variety of directorates. One of the main goal of this event was to raise awareness of Interaction Design within government and to reach out to areas who need help with design, be it procuring series or spinning up their own design team.
Interaction Design meetups
In addition to the event, we also have a monthly Interaction Design meetup that is an open forum for designers and other user-centred design (UCD) professionals to showcase what they've been working on and to discuss issues they may be facing with their projects and allow the group to share their work that may be on a similar theme.
Thank you
We'd like to thank all the presenters and participants who made this event such a great success.
Please feel free to contact interactiondesign@gov.scot if you would like to find out more.
Tags: (IxDD), 2021, Day, Design, Interaction, World
Comments