Digital
Digital Inclusion Symposium in Scotland: Thriving in a digital world
May 3, 2023 by Stewart Hamilton No Comments | Category Digital Citizen Unit, Digital Ethics, Digital Scotland
The Scottish Government's Connecting Scotland Team and the British Irish Council co-hosted a digital inclusion symposium in Edinburgh on 25 April, 2023.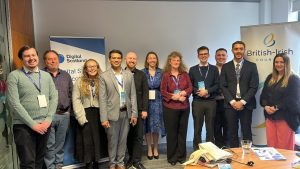 Delegates came from all parts of the UK including: Isle of Man, Jersey, Guernsey, Wales, Northern Ireland and England representing the public, private and third sectors.
The symposium provided an opportunity for Scotland to showcase its digital inclusion work such as the Connecting Scotland programme and highlighted its ambitions in developing Scotland as an ethical digital nation.
Lesley Fraser, Director General for Scottish Government Corporate opened the session by welcoming the delegates to Scotland. She mentioned the need for collaboration in the public and private sectors to work on the digital inclusion agenda.
Richard Lochhead, Minister for Small Business, Trade and Innovation, provided a key note speech and highlighted the Scottish Government's on-going engagement and investment around digital inclusion.
Breakout sessions were led by various programme leads across the UK. The sessions provided delegates an opportunity to ask questions, and learn from each other in a close knit group. The breakout sessions highlighted learning about libraries and their impact, the environmental implications of digital inclusion and the role of the digital champion.
Eilidh McLaughlin, Head of the Digital Citizen Unit, thanked delegates for their time, commitment and engagement which made the event a great success.
Tags: British Irish Council, Connecting Scotland, Digital Inclusion Symposium, Thriving in a digital world
Comments