European Structural and Investment Funds
'Adapting to COVID-19 and using what we have learnt in future' – Lead Partner event on 23 June 2021
July 15, 2021 by Patrick Douglas No Comments | Category Events
On Wednesday 23 June 2021, over 80 representatives from Lead Partners of the 2014-2020 European Structural and Investment Fund (ESIF) Programmes gathered for an online event.
The theme of the event was 'Adapting to COVID-19 and using what we have learnt in future'.Attendees heard from speakers about the successes of delivering ESIF-supported operations during the COVID-19 pandemic and discussed their own experiences in break-out sessions.
Presentations
The Managing Authority's (MA) Head of Performance and Governance Susan Tamburrini commenced the event by providing a general view of the state of play for the programmes, before handing over to Richard Lochhead MSP, Minister for Just Transition, Employment and Fair Work. This event was Mr Lochhead's first public engagement as Minister responsible for European Structural Funds.
Mr Lochhead (pictured above) introduced himself to stakeholders for the first time and paid tribute to the hard work they have done addressing social and economic inequalities via their projects in extraordinary circumstances. The Minister spoke about how the activities supported by ESIF will continue to be vital in Scotland's recovery from COVID-19. He also stated his frustration about the lack of clarity from the UK Government's about the UK Shared Prosperity Fund and the treatment of the Scottish Government during the fund's development.
Next, MA Governance and Stakeholder Team Leader Ryan Gunn discussed how the MA has had to adapt its administration of the programmes in light of COVID-19 restrictions. Continuing the theme, the next speakers were Harry Emambocus of SG Digital and Bernard Dougherty of Scottish Future Trust about their experience delivering the Scottish 4G Infill Programme during the pandemic.
Bernard and Harry's presentation provided details about how they and their suppliers overcame the difficulties of installing phone masts in the Highlands and Islands while following COVID-19 restrictions. Despite concerns over travel complications, revised deployment plans and supplies of materials, the team continued to deliver mobile data infrastructure to areas whose need of it has only increased since the pandemic.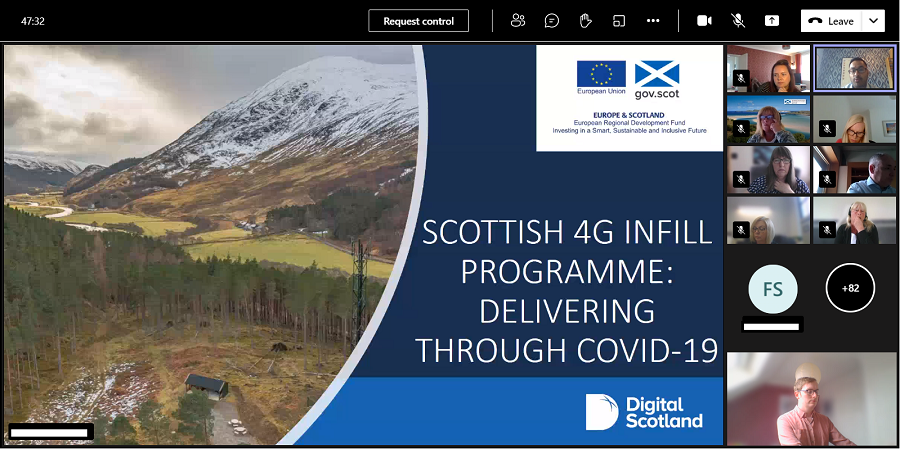 The last presentation was from Tracey Gillon of the MA's Programme Performance Team about the closure process. At the time of the event the closure guidance was still in draft form, but one of the known positions is that all claims must be verified and paid by 30 June 2024. The MA will provide further information on closure to Lead Partners once we have developed our own plans in line with the official guidance from the European Commission.
Break-out discussions
The second half of the event was mostly taken up with discussion sessions, as Lead Partners were split up into three groups: Smart, Sustainable and Inclusive Growth. All three groups were asked three questions.
What has been the ONE major challenge to delivery over the past 18 months?
What has been the ONE major positive result from your experience of delivering during the COVID-19 pandemic?
What is the ONE thing that you have learnt from this experience that you will put in place in future delivery?
A summary of responses for each group can be found below:
Smart Growth Lead Partners
Challenges:
Effects on Framework contracts with third party service providers who were suddenly unable to fulfil services due to lockdown or lack of online delivery options.
Uncertainty about the potential for penalties to be levied on Lead Partners if targets are not met as a direct result of COVID-19.
Difficulty securing "wet signatures" from participants due to COVID-19 restrictions.
Positive results:
Focus of the programme has moved from growth to survivability, linked to ability to offer grants.
How the MA and LPs have worked together to adapt to online services, which have been received well by clients.
Learning for future delivery:
Success of online delivery demonstrates that this can work successfully in a post-COVID world, which is particularly helpful for rural communities.
New approach of document sharing for audits – this model could be used effectively if required in future.
Sustainable Growth Lead Partners
Challenges:
Projects facing supply chain issues, not helped by consequences of Brexit.
Providing all verification documentation for claims under COVID-19 restrictions i.e. no access to offices.
Significant delays to project delivery and therefore meeting key milestones.
Positive results:
Utilising initiatives such as the COVID-19 Response Fund to support the purchase of health supplies.
Projects have demonstrated considerable resilience by delivering throughout the pandemic, albeit with extended deadlines and revised milestones.
Robust due diligence in the selection process for projects has proved beneficial.
Improvement of communication between all parties involved in the governance and delivery of ERDF-supported activities.
Learning for future delivery:
Regular review and revision of risk register is absolutely essential.
Inclusive Growth Lead Partners
Challenges:
Delivering digitally could exclude participants with limited IT skills and is less effective at building a positive and trusting relationship than face-to-face interaction.
Capacity at delivery organisations and resources being deployed elsewhere to meet COVID-19 demands.
Lack of flexibility re: compliance during the pandemic.
Positive results:
Delivering digitally means participants have access to a large range of modules and they have generally been happy with the new approach.
For individuals with mental health needs, delivering digitally has taken the pressure off them having to access services in-person.
Community organisations and the third Sector have developed and built stronger links.
Learning for future delivery:
The pandemic has proven that we can go paperless and access documentation digitally, rather than keeping and storing hard copy files.
People think outside the box more, there is better engagement with some people and some people are now getting support that they were not aware of.
Mental health has always been an issue, but it is important to learn from this experience and build into future employment programmes.
Feedback survey results
26 attendees completed the feedback survey for the event. A summary of the findings:
Respondents appreciated the break-out rooms and opportunities to hear from other Lead Partners and meet the new Minister.
Suggested improvements include providing more depth and detail about current performance issues and smaller break-out groups to be able to go into further detail.
At future events, respondents would like to hear about the claims process and de-commitment, have more content from guest speakers/case studies and sessions on audit and compliance.
No aspects of the event were rated as 'poor'.
Overall, 40% of respondents rated the event as 'very good', 40% as 'good' and 20% as 'fair'.
Next steps
The MA would like to thank all attendees, especially the speakers. We hope to host a more online events later this year and are aiming to hold an in-person event as soon as it is safe to do so.
Comments