Health and Social Care
Voices of community health and social care: Gareth's story
April 28, 2023 by healthsocialcare No Comments | Category National Care Service
Over the course of the past year, we have been up and down the country filming for our Voices campaign. We have heard from people who use and work in community health and social care, listening to their experiences and how this has shaped their hopes for the National Care Service.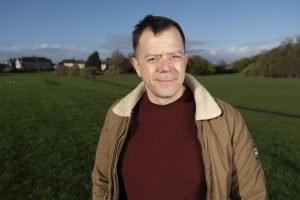 Gareth is in his 40s and moved back home to care for both his parents in 2015.  His dad died in 2019 and he continues to look after his mother who has vascular dementia. He kindly shared his experience with us, read his interview below.
Tell us about your Mum's condition
My mum's dementia is a challenge but she's still completely sure of herself, who she is and that she wants to be at home for as long as possible. I'm here, working with the council, to make sure that she gets that wish. We'll do that for as long as we can.
She gets high levels of anxiety if anything breaks her routine. If something unannounced happens, if people drop in unexpectedly, even if it's my brother visiting or if a scheduled carer doesn't show up she gets extremely agitated. If her routine is followed, she's comfortable and calm.
What happens when she gets agitated?
She's not able to think straight and it causes her to be irrational, aggressive and just really hard to manage. She gets quite emotional about that too; that's when I get upset.
On top of the dementia, my mum also has a severe level of conditions which means she has quite a lot of accidents. When they happen, because of the dementia, she's not able to process it and that can set her off. So, the two of those factors combined can be a quite a lot to deal with.
What social care support does she receive?
The support we get from the local authority is fantastic. Carers in the morning get Mum up, washed, dressed and fed. That frees me up to make a start on my work duties. In the evening they prepare my mum's dinner for her.
It's a struggle if I'm working from home and trying to meet deadlines and Mum goes off on one. I'm here 24/7 most days and I could make my mum's dinner, but the fact that the carers do it just gives me that little bit more space to get on with my job and do the things I need to do which is great. I would struggle to keep my job if it wasn't for them.
How does it impact on you?
I feel like I live to work and I live to serve, I don't feel like there's space for me and that's the bit that I'm struggling with most. It's trying to retain some self-identity because there's been times where Gareth doesn't exist anymore. It's just the carer or the designer and there's nothing in between.
Anything that can facilitate me to have a little more time, it doesn't need to be a lot, makes me feel I still have my own life.
How have you found accessing support?
I was clueless getting care in place for my dad but when mum's symptoms got worse and she was diagnosed with dementia, I knew where to go straight away.  The challenge is finding support for me and there seems to be a lot of conflicting advice.
What are your hopes for future improvement?
If there was one point of contact of support for the person being cared for and for the carer, everything would just be so much simpler and simplicity is what I need.   Policy or teams seem to change constantly. If something was nationally applied, everybody would be treated the same way and there wouldn't be any discrepancies.  There's so much support for carers out there but it's fractured across so many different organisations.
If you have experience of community health and social care support, please register for our Lived Experience Experts Panel and help us design a National Care Service which meets the needs of everyone in Scotland.
Tags: lived experience, national care service, Social Care
Comments