Health and Social Care
Voices of community health and social care: Lorna's story
August 16, 2023 by healthsocialcare No Comments | Category National Care Service
Over the course of the past year, we have been up and down the country filming for our Voices campaign. We have heard from people who use and work in community health and social care, listening to their experiences and how this has shaped their hopes for the National Care Service.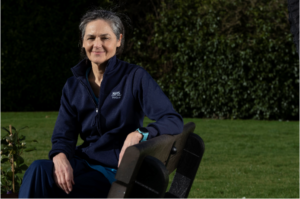 Lorna is a speech and language therapist working at Cameron Hospital in Fife. 
Can you tell us more about what a speech and language therapist does?  
A speech and language therapist supports and enables people with their communication. There are many different reasons that a person's ability to communicate is affected or changed. It can be due to a stroke where the area of the brain which processes speech and language is affected, or it could be due to a progressive illness like motor neurone disease, where the motor skills of speech are affected.  
Obviously, it's very important that we can communicate. It's important for our psychosocial health and our role in the world, it enables us to socialise and feel like the person that we are, to express our thoughts and our ideas and our wishes. We also work with family and friends because communication is a two-way thing.  
Another important part of our role is to support people with their eating and swallowing. Eating and swallowing involves similar muscles to those for voicing and speaking. It's a very complicated neurological process and speech and language therapists are highly knowledgeable and skilled in this area. Clearly eating and drinking safely and enjoying eating and drinking is very important to us and a very important social activity. It's quite a diverse profession. 
What do you find most rewarding about what you do?
I think it is that enabling aspect of helping people get their voice back and being able to tell us what they're thinking or what they're feeling and what's important to them. Helping them live life as well as they can again, despite maybe having some communication difficulties or eating or swallowing difficulties. It's very rewarding to see that. 
What are the biggest challenges you face in your role?
One of the biggest challenges in the job is just juggling. Juggling clinical work and non-clinical work, trying not to get too caught up in processes that take up a lot of time. There's a bit of repetition and dealing with interruptions and requests – people need you all the time throughout the day, so it's quite hard to get that time management right. The referral rates keep going up and it's hard to fit everything in.  
Have you found that it's become more challenging over the years?
I think it has become more challenging, I think there are some higher expectations of the service and what it can deliver. Those expectations are from our sources of referral and sometimes we feel the need to expand into areas that we don't have expertise in and would need to apply for funding to deliver. We have to be stricter with ourselves and say, well we can't really go into that area because we don't have the funding and we don't want to offer a watered-down service.  
What do you think works well within the current system?
I think that we are very innovative and progressive and are always looking to try and do things differently. If you've got limited resources you need to make those resources work effectively, and I think we've nudged ourselves more and more to become a lot more patient-centred. We still need to improve, but we're going in the right direction with that. 
Can you explain more about a patient-centred approach?
So rather than a purely medical approach, which simply focuses on the most effective way to treat a specific issue, we're really committed to working out what matters to the patient more widely and what we can help them with. People have expertise in living with their condition and we have things to offer but it's making sure that we are offering what they need at the right time. Different patients will have different needs and preferences, and we need to put this at the heart of what we do. 
What do you hope for from future improvement?
I hope that the National Care Service will help us to continue improving this patient-centred approach. And a large part of that is moving people from hospitals into community settings, but ensuring they are still getting the level of support they need. Once they are discharged, we do depend on the care service being there for our patients currently. We want the opportunity to work closely with our colleagues in that service, and they need to be trained and knowledgeable and have a good career pathway as well, because their role is so important to allow people to live as well as they can. And that's what we're all in this for, really.  
If you have experience of community health and social care, please register for our Lived Experience Experts Panel and help us design a National Care Service which meets the needs of everyone in Scotland.    
This year we are hosting our National Forum at the Glasgow Science Centre 30 October. You can find out more information and how to register your place on gov.scot/ncs.  
Tags: lived experience, national care service, national forum
Comments