Health and Social Care
Voices of community health and social care: Sarah's story
July 10, 2023 by healthsocialcare No Comments | Category National Care Service
Over the course of the past year, we have been up and down the country filming for our Voices campaign. We have heard from people who use and work in community health and social care, listening to their experiences and how this has shaped their hopes for the National Care Service.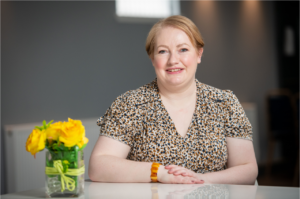 Sarah was diagnosed with breast cancer in June 2021 at the age of 39 when she was a single mum to a five-year-old daughter.
Tell us about your treatment?
I went through nine months of chemotherapy surgery and then radiotherapy. They wanted me to have extra chemotherapy but I declined that offer because life was too difficult as a single mum with no help or support at home when looking after a little one.
How did the treatment affect you?
It really took it out of me. My daughter was an absolute star through the whole thing but she had to understand that some days I just wasn't able to do things. Some days I needed to sleep on the sofa for an hour. Some days her tea was late because I was too tired to make it and some days her friend's parents had to take her to give me a break. Thankfully now that my cancer has gone and life is getting back to normal, we're trying to pick up those pieces.
What social care support did you get?
I didn't get any social care support as a single parent with cancer.  I was able to get some help to come to the house to help me shower and bathe but apart from that, there wasn't anything else.  It was a really difficult time and there wasn't anywhere to turn to. Charitable help was where I got the most assistance.
What charitable support did you get?
Rays of Hope, a cancer support group, came along and filled the gap. Psychologically they were able to nurse me through the end of my treatment, keep my spirits high and make sure that I was okay. They were just able to fill that social gap where I was very lonely. I was in the house by myself, too sick to do much.
It's peer to peer, offering support to each other through the members. Because it's only a small group, we tend to see the same people week in, week out. We form relationships with them directly and we support each other through the highs and lows of our cancer journey.
What would you like to see from future improvement?
I think that going forward the National Care Service should be able to offer local support to people and be able to reach out to people in their current environment rather than having to travel long distances to be able to access that support. I think that I'm very lucky that in the Renfrewshire area, there is Rays of Hope. Often cancer support groups can be a long distance away and when you're not able to drive because of your treatment it's not altogether practical to be able to use that.
When given a cancer diagnosis, there is so much unknown and unless you've been through it already you don't know where to start. You hear things that diet and exercise are going to make a big difference to your cancer experience. Being able to get expert advice on what to eat, what exercise you can do, I think that's really lacking. It could impact on future outcomes, which in turn is then going to have an effect on the NHS and take some of that pressure away.
If you have experience of community health and social care, please register for our Lived Experience Experts Panel and help us design a National Care Service which meets the needs of everyone in Scotland.
We're also hosting a series of in-person and online forums this summer as part of the development of the National Care Service. You can find out more information and how to register your place on gov.scot/ncs.
Comments