Health and Social Care
Voices of community health and social care: Linda's story
July 14, 2023 by healthsocialcare No Comments | Category National Care Service
Over the course of the past year, we have been up and down the country filming for our Voices campaign. We have heard from people who use and work in community health and social care, listening to their experiences and how this has shaped their hopes for the National Care Service.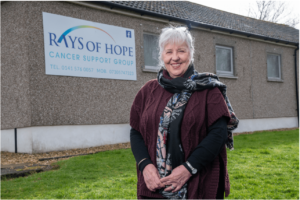 Linda is the founder of cancer support group Rays of Hope in Elderslie, Renfrewshire. The charity was set up in 2015. 
Can you tell us about Rays of Hope?
Rays of Hope is a cancer support group. We're here to help those who have been diagnosed with cancer and the families who are caring for them. 
We started off as a small exercise group with just four or five people. We now have 145 members and we offer a variety of activities, from exercise and walking groups to photography and choir. 
We offer emotional wellbeing support to those who need a bit of extra help, and we also have our own psychotherapist.  
Why did you start the group?
I recognised some time ago that there was a need for something like this. My mother and my sister both passed away with pancreatic cancer and at that point there was nothing like this available to offer support. 
What you find most rewarding about your job? 
People are often upset when they first come and see us – they've just been diagnosed. I love to see them going back out the door again after a few months, when they've been through the programme and they're in a better place, both mentally and physically. If they're going for surgery, they're ready for it. And I love to see them coming back in again, after they've had their surgery or treatment, and they're at home here. They're in a safe place.  
What are the biggest challenges you face?
I would say the biggest challenge we have here is space. It's not so much what we can provide, but the space. We're looking at an extension and have plans drawn up for that, so funding is another big challenge.  
When you set up the group, did you feel there was a gap? 
Yes, I felt there was a big gap. People would go to their doctor, to the hospital for tests, and back to the doctor to get their diagnosis. That is the time when people really need help. There is a fear of the unexpected. I never thought it would end up as big as this. The need is so much greater than I thought at first. 
What would you hope for from future improvement?
I would like to see support groups, but in a larger capacity than this. Places where people can go and feel safe, meet others with the same diagnosis, make new friends. I would also like people to know they can contact their consultant or their doctor whenever they need to, rather than waiting weeks or months or even years to see someone.   
What could the National Care Service learn from the work you do at Rays of Hope?
Being a local charity, we're available and accessible to people here in the Renfrewshire area. People in the local community hear about us, they come along and we're able to point them to different areas within the group. That's a big thing for us – we can help people through their diagnosis and through their illness, and make sure they have someone there right beside them.  
If you have experience of community health and social care, please register for our Lived Experience Experts Panel and help us design a National Care Service which meets the needs of everyone in Scotland. 
We're also hosting a series of in-person and online forums this summer as part of the development of the National Care Service. You can find out more information and how to register your place on gov.scot/ncs. 
Tags: Cancer support group, lived experience, national care service
Comments