Health and Social Care
Voices of community health and social care: Kate's story
July 26, 2023 by ncscommunications No Comments | Category National Care Service
Over the course of the past year, we have been up and down the country filming for our Voices campaign. We have heard from people who use and work in community health and social care, listening to their experiences and how this has shaped their hopes for the National Care Service.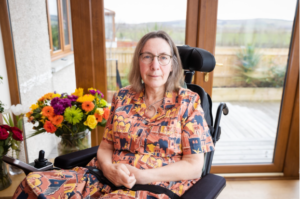 Kate was diagnosed with motor neurone disease (MND) in July 2022.  She is a wife, mother and grandmother and works full-time. 
What is MND?
MND is a progressive disease. Most people live for about 18 months to two years after diagnosis, because the degeneration of the muscles is such that eventually it affects the respiratory muscles and you can't breathe anymore. However, with MND it's different for everybody. Some people will lose their voice, others will find it difficult to eat and some will have mobility issues. You never really know exactly how yours is going to go.  
How has your life changed since your diagnosis?
MND progresses quite quickly. The challenges that you face can often be different from week to week and you have to be prepared to adapt to whatever situations arise and have solutions that are going to help you get through a day.  
What care do you receive?
I currently have two carers in the morning who come help me out of bed, shower, get dressed. I also have respite care so that my husband can get away and do the shopping and go for a cycle ride during the week. I am waiting for evening care to help put me to bed, but I've been waiting for that for about seven or eight months.  
How does living in the countryside affect the support you receive? 
It does make the situation more difficult. I think as there are less people available doing the social care job there are changes if they are short-staffed or people are ill.   
The hospital is 45 minutes away, the dentist 40 minutes away and that's too far in the car for me so I can't attend appointments. You don't have the services at hand in the way you would in an urban area. 
What is working well and not so well with your care?
The social care I receive is really good. The people who are involved in it are fabulous. The carers in the morning getting me up are very efficient and they get me to work on time, which is excellent.  
The co-ordination of all those people is good and they share information.   
With MND you have so many different people who are involved in your care, it is often very difficult to keep up with that and it can be confusing. There is still a certain amount of ownership you need to take which does become quite onerous, particularly when the condition is something you know nothing about.   
Advocates like MND Scotland are excellent but they're not there all the time.  
What's not working so well?
Where there are gaps in the service and that certainly for me is in the evenings. Also, because MND is a disease that progresses so quickly, waiting lists don't work.  If you need equipment or a service upgrade – like adaptations to your sleeping, wheelchair or eating needs – you need it quickly. That's very difficult in the current care system, you tend to find you're having to wait for things and when they do come your condition has worsened.  
What would you like to see from a National Care Service? 
Allowance needs to be made for progressive diseases like MND so that there is a fast-track system for products and services. You can't wait to have a wheelchair adjusted six months down the line. 
There should be the same access for people who live in rural areas as urban areas. That would come down to consistency across the country.  
The third area is around training and the training for care workers and for your carer – in my case, my husband. The training needs be seamless across all those different professions so that they all know how to look after you and that they do that safely and with respect, but they are all skilled in doing so.  
If you have experience of community health and social care, please register for our Lived Experience Experts Panel and help us design a National Care Service which meets the needs of everyone in Scotland.  
We're also hosting a series of in-person and online forums this summer as part of the development of the National Care Service. You can find out more information and how to register your place on gov.scot/ncs. 
Tags: lived experience, national care service
Comments