Marine Scotland
Community Renewable Energy Schemes in Scotland
December 19, 2013 by Paul Stainer No Comments | Category Marine Renewables, Marine Scotland Science
University of Aberdeen's School of Social Sciences organised an event on "Community Renewable Energy Schemes" on Wednesday 20th of November. The seminar looked into factors that affect the success of community renewable energy schemes. To highlight the importance of the event, it worth mentioning that the Scottish Government has a target of 500MW community renewable energy projects by 2020. The main focus of the meeting was onshore wind energy projects but lessons learnt were found to be applicable to potential future community offshore renewable energy projects. The event was attended mainly from Aberdeen-based university students (University of Aberdeen – UoA and Robert Gordon University – RGU), academics, and local authorities representatives. There was a range of speakers from UK devolved administrations and abroad (Denmark) sharing their experiences and innovative means of achieving successful community owned renewable energy schemes.
Firstly, event organiser Dr David Toke, from the University of Aberdeen, gave an introductory talk on renewable energy cooperatives. He talked about feed-in tariffs, Renewable Obligation Certificates (ROCs), Electricity Market Reform, and how these might serve to empower existing big utilities companies over independents. Finally, he highlighted the need for a community lobby.
Next, Felix Wright from charity body "Community Energy Scotland", presented on Community Renewables Programmes in Scotland. He started by explaining the competing definition of community and made an important distinction between joint-venture energy cooperatives among local communities and commercial companies (with a community benefit of £2.500-£500/year) versus wholly-owned community energy projects (with a community benefit of ca. £100.000/year). Next, he talked about the central role of community development plans, and some of the challenges faced today such us the transition of the Scottish support mechanism CARES (now managed from Local Energy Scotland) from grant-based to loan-based support, the difficulty of managing annual public funding budgets against the multi-annual project process, and the uncertainty relating to UK-wide support mechanisms (outside Scotland).
Furthermore, Henning Davidsen, coordinator of the co-operative wind power project "Hvide Sande" in Holmsland, Denmark presented their Danish experience and the successful steps followed to construct and operate the 9MW wind power project (comprise 3 turbines) using an innovative Trust Fund mechanism to underpin a cooperative (20% of the fund was collected by the local community). The profit generated from the project have been already used to redevelop and expand the local port.
Moreover, Dr. Richard Cowell from the University of Cardiff, shared his experience on community renewables in Wales. Using Dyfi Valley project as his first example, he highlighted that social capital makes a difference. Experience from Awel Aman Tawe also suggest that time considerations are equally important. Finally, lessons learnt from a Welsh Power Factory suggests it is very important to have socio-technical constraints in mind when planning community projects.
In addition, Dr Claire Haggett from the University of Edinburgh, presented very interesting findings from her work commissioned by the Scottish Government on the Social factors that influence the success of community energy projects. The most common motivators (but not always the most successful) are economic considerations. Most community projects fail in the feasibility stage but those making it to the planning process usually progress faster. Community projects' most significant issue are raising finance and skills. Skills found within the community do not correlate with success, and most of the times, communities have issues recruiting dedicated experienced project staff resulting to high reliance on volunteers and high sensitivity to departing individuals. The cost and risk for community project is often higher and council support is of variable quality. Community projects' success is mostly dependent on pre-existing community identity, trust, and cohesion, with longstanding community groups having the greater likelihood of success. In conclusion, Claire's suggestion is that formal incentives for developers should be put in place to engage partnerships negotiations.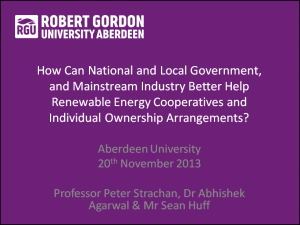 Last but not least, Prof. Peter Strachan from RGU's Business School, presented the initial findings from a recent survey of all 32 Scottish local authorities on community benefit provision for wind farm developments in Scotland. This survey aimed to critically assess the extent to which formal policy guidance had been issued on the topic of community benefits provision (including ownership arrangements) for wind farm developments in Scotland. While some local authorities such as the Highlands Council, Argyll and Bute had issued formal policy guidance on community benefits provision, the majority of Scottish local authorities have not. The reason for this lack of action appears to arise from the fact that wind power applications are often controversial and that local authorities face significant resourcing constraints. Having outlined his initial findings Professor Strachan concluded that 1) The Scottish Government should issue to local government national level guidance on community benefit provision and 2) Community benefit packages should be made an integral part of the planning process, with individual, farmer and cooperative ownership arrangements to be given special treatment. Additional incentives could be a further increase of SG's 500MW community owned renewables target to at least a 1000MW and finally developers should become more creative in community benefits provision particularly in terms of promoting a variety of joint venture and stockholding ownership arrangements.
Article by Andronikos Kafas
Comments