Marine Scotland
European Maritime Day: Part One – the NorthSEE project
May 18, 2016 by Marine Scotland Communications 1 Comment | Category Marine Planning, Marine Scotland general, Marine Scotland Science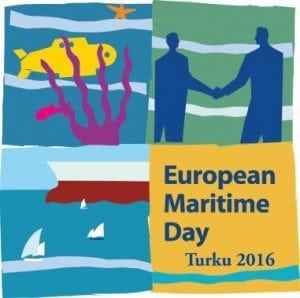 The 18th and 19th May celebrate European Maritime Day (EMD) – the annual meeting point for Europe's maritime community to network, discuss, and agree joint action on work connected to the marine environment.
EMD 2016 has been organised in cooperation with the City of Turku and the Finnish government and focuses on the theme of "Investing in competitive blue growth – smart and sustainable solutions".  More specifically it will focus on identifying and highlighting the practical steps needed to drive blue growth investments, as well as innovation and change in the blue economy.
In celebration of this, over the next two days we're going to blog about two new projects that Marine Scotland has been involved with – the NorthSEE project and SIMCelt project.
Scotland's National Marine Plan, published in March 2015, provides a single framework for sustainable management of Scotland's seas. It has been designed to support the development of future regional marine plans and also ensures that the Scottish Government meets EU Regulations around planning, especially where sea boundaries are shared. For the first time, sea areas who are managed by different organisations – including Marine Scotland – will participate in two European Commission funded projects in the Celtic and North Sea. As partners on both projects, the Scottish Government will be sharing resources, joining up activities where possible and sharing lessons learned.
The NorthSEE Project
The North Sea Perspective on Shipping, Energy and Environment Aspects in Marine Spatial Planning (NorthSEE) project has secured funding for a three-year programme of work through the European Territorial Cooperation fund.
The project will look to increase the effectiveness of marine spatial planning by co-ordinating all of the Marine Spatial Plans in the North Sea Region. The project aims to find solutions and approaches to trans-boundary planning by working together to identify synergies and mis-matches of planning processes.
The NorthSEE Partners are a combination of National and Regional Public Authorities as well as Higher Education and Research facilities:
National Public Authority project partners:
German Federal Maritime and Hydrographic Agency (Lead Partner)

Scottish Government

Dutch Ministry of Infrastructure and the Environment

Belgian Ministry of Environment

Belgian Federal Government Service for Mobility

Director General Maritime Transport)

Norwegian Ministry of Climate and Environment

Swedish Agency for Marine and Water Management

Danish Ministry of Environment (Aalborg University)
Higher education and research project partners:
Aalborg University (Denmark)

Carl von Ossietzky

University of Oldenburg (Germany)

World Maritime University (Sweden)

 NHTV University of Applied Sciences (Netherlands)

Institute of Marine Research (Norway)

Norwegian Environment Agency (Norway)

University of Aberdeen (Scotland)
Regional public authority project partners:
Province of Noord-Holland (Netherlands)
_______
Written by
Andronikos Kafas  and Lynsay Ross, Marine Scotland.
Further Information
Comments