Marine
Calculating shellfish stock figures
June 22, 2016 by Marine Scotland Communications No Comments | Category Aquaculture, Marine Directorate Science, Scottish Marine and Freshwater Science report series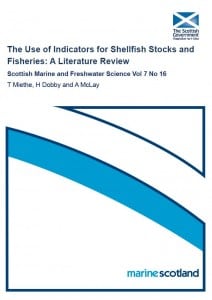 A new Scottish Marine & Freshwater Science report has been published looking at indicators of changes for Scottish shellfish stocks.
Shellfish are important to Scottish fisheries – a total of 61 544 tonnes of shellfish with a value of £150 million were landed by Scottish vessels in 2014. However, for many shellfish stocks, the limited biological data and lack of appropriate monitoring make assessing stock challenging.
The data limitation is due to insufficient methods for the ageing of crustaceans. For sedentary shellfish stocks, exploited by localised fisheries, data at the appropriate spatial scale is often not available and measured (or derived) regularly, indicators are able to show changes in the state of the population or stock, and fishing mortality to support a data-limited stock assessment.
In this report, we review the use of indicators calculated from a number of sources:
commercial fishery data
fishery-independent survey data
available biological data
and we look at their use in the assessment, advisory process and management of data limited stocks, both fish and shellfish, worldwide.
Further Information
Comments