Marine Scotland
The Bee's knees
September 13, 2016 by Marine Scotland Communications No Comments | Category Marine Scotland Science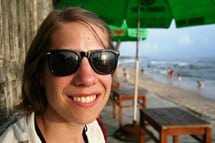 Congratulations to Marine Scotland scientist Dr Bee Berx (pictured right) on receiving a Challenger Fellowship award!
Started in 2000, the Fellowships are awarded to early career-stage marine scientists who are members of the Challenger Society, for their achievements and promise in a branch of marine sciences: marine biology, marine chemistry, marine geology and marine physics. Asked about her award, Bee said "I am very grateful that the marine science community have recognised my achievements and hard work over recent years.
Bee is one of our oceanographers and is passionate about science and about educating others. She was involved in the Edinburgh Science Festival "Ocean Junkyard" panel, looking at the problem of plastics in our ocean and other big problems facing our oceans.  Her research and advice focuses on the ocean circulation of our shallow seas and neighbouring deep sea regions, such as the Faroe-Shetland Channel.
Further Information
Tags: Bee Berx, Challenger, Fellowship, marine science
Comments