Marine Scotland
MarCRF at ICES
September 28, 2016 by Marine Scotland Communications No Comments | Category Collaborations, Marine Collaboration Research Forum (MarCRF), Marine Scotland Science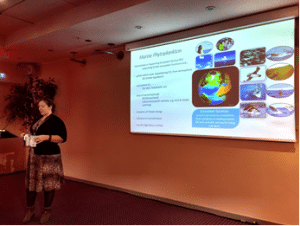 MarCRF was well represented at the International Council for the Exploration of the Seas (ICES) Annual Science Conference 2016, this week in Riga, Latvia.
Research Fellow Jacqui Tweddle (pictured right) presented in the "What is a good pelagic habitat?" session, talking about "Phytoplankton: supporting a good pelagic habitat", which was well received and started a lot of discussion.
Current MarCRF PhD student and Marine Scotland scientist, Andronikos Kafas, presented his own work on fisheries displacement due to offshore windfarms, and that of his recent MSc student Stanley Mastrantonis (King scallop distribution models in the session "Integration challenges in maritime spatial planning – approaches, science gaps, and communication demands).
Fellow Marine Scotland scientist and recently graduated MSc student, Mäylis Billet, also presented in this session on her work on improving representation of fishing vessel tracks for use in marine spatial planningas did previous MarCRF MRes studentship holder Adam Delargy.
 Jacqueline Tweddle (@jftweddle)
Further Information
The Marine Collaboration Research Forum (MarCRF)
Tags: MarCRF
Comments