Marine Scotland
Beaches in Scotland see a decrease of 18% in overall marine litter levels
November 24, 2016 by Marine Scotland Communications No Comments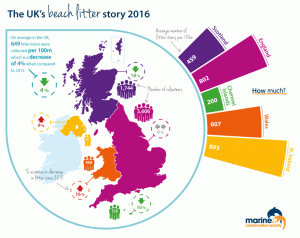 Readers of this blog will be aware of the work that some of our colleagues in Torry, Aberdeen, have been doing on tidying up the local beach area there. Colleagues from SEPA, SNH, JNCC and Marine Scotland have been cleaning up the area for some time now and in September, we were delighted to promote and be involved with the Great British Beach Clean.
As Professor Colin Moffat, our Head of Science, reported:
"I spent some time picking up oodles and oodles of bits of expanded polystyrene as well pieces of expanded polystyrene cups. Although there were some larger pieces of litter, it was perhaps gratifying to note that the amount of macro litter has greatly decreased since Marine Scotland has been tending to this beach. However, the beach continues to be plagued with small bits of litter, especially expanded polystyrene."
The latest results of the Beach Clean have now been published by the Marine Conservation Society and the good news is that the number of plastic bags found have almost halved in a year, but there was a rise in the amount of balloon related litter, up over 50% on 2015. There were also more drinks containers, bottle caps and lids, too – up more than 4% on the previous year.
Next year's Beach Clean will take place between the 15th and 18th September and we'll keep you up to date with details about how you can get involved.
Further Information
Comments