Marine
Maximising the benefits of future large scale tidal and wave energy developments
November 3, 2017 by Marine Scotland Communications No Comments | Category Collaborations, Marine Directorate general, Marine Directorate Science, Marine Renewables
Marine renewable energy is an important component of the Scottish Government's vision for the future and will help the government reach its climate change objectives.
In response to this, a three-year project, EcoWatt2050, was created to investigate how we can ensure that the benefits of future large scale tidal and wave energy developments can be maximised, whilst minimising the environmental impacts and ensuring that these meet the legal criteria established by European law.
The project was established through Marine Alliance for Science and Technology for Scotland (MASTS) and funded by the Engineering and Physical Sciences Research Council (EPSRC). It was led by Heriot-Watt University, in partnership with the Universities of Edinburgh, Aberdeen, Strathclyde, and the Highlands and Islands, Swansea University, the National Oceanography Centre (NOC), the Scottish Association for Marine Science (SAMS) and Marine Scotland Science (MSS).
By 2050, the natural conditions in Scottish seas will have changed due to climate change and EcoWatt2050 aimed to consider these changes and compare them with the changes predicted due to large scale marine renewable energy. The research had been specifically designed to respond to questions:
How can marine planning be used to lay the foundation for the sustainable development of very large scale arrays (developments) of marine renewable energy devices?
What criteria should be used to determine the ecological limits to marine renewable energy extraction, and what are the implications for very large scale array characteristics?
How can we differentiate the effects of climate change from energy extraction on the marine ecosystem?
Are there ways in which marine renewables development may improve or exacerbate the predicted effects of climate change on marine ecosystems?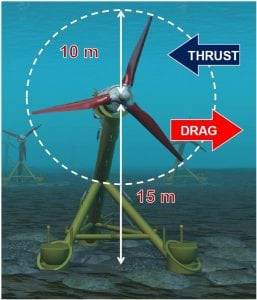 EcoWatt2050 modelling scenarios
A number of areas around Scotland were identified, using a marine spatial planning process, as suitable for tidal and wave energy expansion. This process took into account the best available natural resource for renewable energy, as well as other users of the sea such as oil and gas, fishing and tourism. These identified areas that were used in the project modelling scenarios as the locations of large arrays.
Tidal energy extraction
Using a newly developed hydrodynamic model of Scottish Shelf Seas (the Scottish Shelf Model), changes to oceanographic conditions, caused by energy extraction at both national and local scales, were able to be predicted. Changes to tidal elevation, marine currents and ocean stratification patterns due to both climate change and the effect of large scale tidal arrays could also be simulated, although the tidal array scenarios that were modelled were hypothetical examples, and the arrays of tidal turbines that were used were larger than those being deployed today, but are likely to be common place in 2050.
Wave energy extraction
Hydrodynamic changes due to wave energy extraction was also modelled, in an area off of the west coast of Orkney, using two types of wave energy devices (constructed as large arrays). The modelling allowed factoring in changes to wave height, velocities at the surface and at the seabed, wave front power and also wave period and direction.
Both present and future climate conditions were also investigated in order to assess the relative impact of large scale wave energy extraction and climate change.
Overall Conclusions
The key finding of the project was that overall impacts due to climate change for both the physical and ecological environment are an order of magnitude higher than for renewable energy arrays. The project summary booklet which provides an overview of all the research carried out is available for download from the MASTS website and the Marine Scotland Information project page for EcoWatt2050 will contains metadata for the project outputs and links to the data.
Acknowledgements
The EcoWatt2050 Consortium gratefully acknowledges financial support for this work from the EPSRC Grand Challenge II award (EPSRC Grant Ref: EP/K012851/1), and contributions from MSS and MASTS.
Further Information
Tags: Ecosystem, oceanography, renewables, research, science, tidal
Comments