Marine Scotland
Celebrating the Year of the Engineer – Meet Bill Leiper
April 10, 2018 by Marine Scotland Communications 1 Comment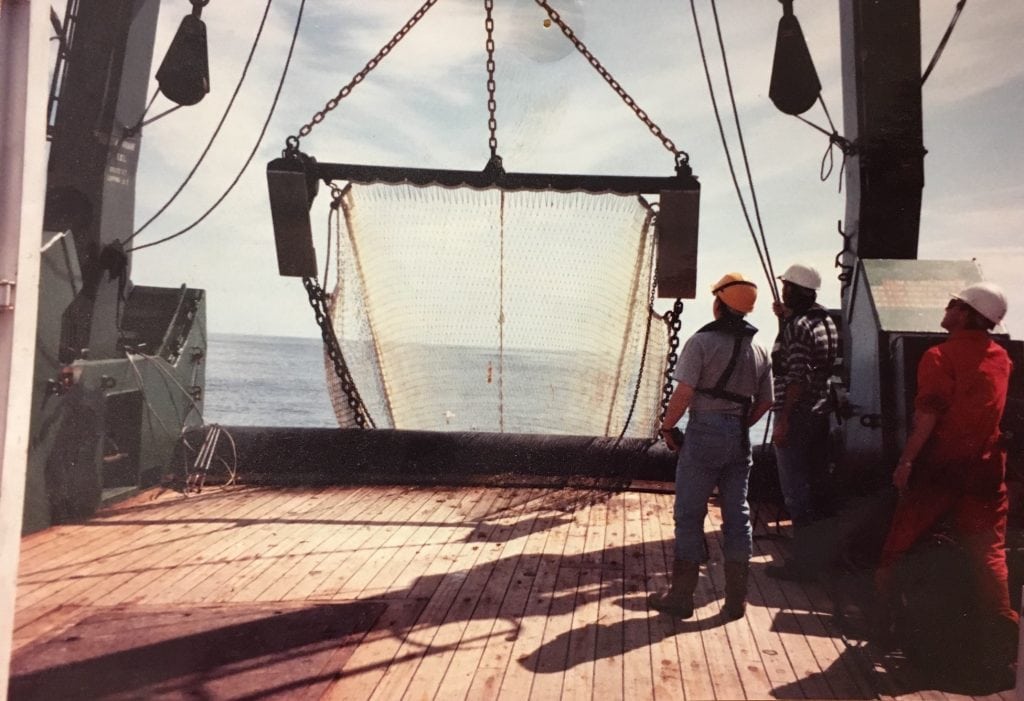 As we mentioned in our blog in January, 2018 is the Year of the Engineer as well as the Year of the Young Person. Over the course of the year, we'll be introducing you to some of our incredibly talented engineers, as well as showing your some of their work. Next up, we hear from our Net Store Manager, Bill.
Who are you and what do you do?
I'm Bill Leiper – the Net Store Manager at the Marine Lab in Aberdeen (the one in the yellow hard hat!).
Why is what you do important?
We are the last remaining net store in Aberdeen, a city once buoyed by a vibrant fishing industry. They are very few skilled and experienced net menders and riggers left in the North East, let alone Aberdeen. From our in-house, purpose built net store, we provide a highly professional and particular service to, principally, the science sector. A large part of the work is dedicated to the numerous and wide-ranging fishing surveys that take place throughout the year. We make, mend and repair a large variety of nets and dredges in addition to supplying and servicing all the associated gear that accompanies this. Driven, in part by ICES, we work to our own exacting specialised standards. We regularly make and supply a diverse range of moorings for different departments in the lab. If any of this aforementioned work was to be outsourced and completed externally, the cost would very quickly become staggering.
What's your career path been – how did you get here?
I'm a Torry lad who grew up near the lab. Like a few of my pals at the time, I was distracted in school. We were sent en masse to trawling school, as was standard in those days. Before finishing my first week there, my class was asked "Does anyone fancy an apprenticeship as a net rigger?". Two of us raised our hands. I was quicker. Two weeks later I started in the lab, on the 6th of January 1976. Four years later I was given a hand written piece of paper. It signified the completion of my apprenticeship. I still have this original letter at home somewhere.
What's your proudest achievement so far?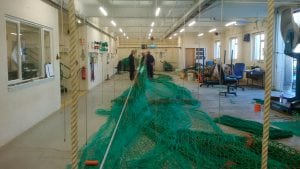 In a work sense I have always and still take great pride and pleasure in teaching new skills to those willing to learn.
Although I am now based almost entirely in the lab, I used to spend a bit of time at sea. One trip of note came about after the Braer ran aground off Shetland in 1993. I was tasked to accompany the Merchant Navy crewed vessel Challenger (Charter) to the site of the spill to conduct fishing operations to monitor contamination. We fished with a beam trawl on a single wire and, as the only person aboard with any fishing knowledge, I came to effectively command the operations of the vessel. A four day trip very quickly turned into 24 days. I think I earned at least a stripe.
What would you say to any aspiring young engineers?
Probably unsurprisingly, listen and learn. Stick in and do your best but if you've found something you love to do then this will come naturally and without hassle.
Why, in your opinion, do you think outreach is important/why do you do it?
Outreach broadens the mind. It casts the net and gives people an opportunity to consider things they otherwise may not have.
I particularly enjoy seeing the excitement and enthusiasm of primary school kids when they come to learn about what I do. Unlike the often disgruntled and disinterested teens, they are keen to ask countless questions. The net store is a compulsory stop on the show and tell tours.
And one fun fact about you?
I know quite a lot about Torry. I know that there are two Aitkens bakery shops in Torry. I love paradise slices from Aitkens.
Tags: engineering, fishing, nets, research, science
Comments