Marine Scotland
Offshore Energy and Marine Spatial Planning Book
May 23, 2018 by Marine Scotland Communications No Comments | Category Marine Renewables, Marine Scotland general, Publications, Uncategorized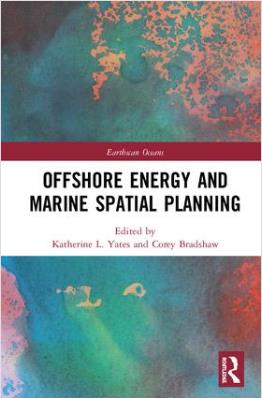 The generation of offshore energy is a rapidly growing sector internationally. Its expansion means competing for space in an already busy seascape, and as it develops it will have many potential impacts on established patterns of sea use, rights of access, and social and cultural value systems.
Effective marine management not only needs to balance the often-competing demands of existing and emerging uses, but also maintain the underlying capacity of the marine environment that supports them. To help mediate conflict, balance multiple objectives and move towards more sustainable decision-making, marine spatial planning (MSP) has emerged as the main tool – and Marine Scotland's expertise has shared internationally with a book by the major academic publisher, Routledge. The book brings together the ecological, economic, and social implications of spatial conflict and covering all energy-generation types (wind, wave, tidal, oil, and gas), it explores the direct and indirect impacts the growth of offshore energy generation has on both the marine environment and the existing uses of marine space.
As the national authority for both offshore renewable energy and marine planning, Marine Scotland created the first statutory National Marine Plan in March 2015 and plans for offshore wind, wave and tidal energy in Scottish waters have been developed to explore how offshore renewable energy sources can contribute to meeting Scotland's target of generating the equivalent of 100% of electricity demand from renewable sources. When approached by the authors of the book, Marine Scotland scientists Andronikos Kafas and Ian Davies were happy to share their experiences and provide scientific support on the subject of marine and sectoral planning.
Chapters of the book explore the main issues associated with offshore energy, and Marine Scotland were specifically involved in the chapter on the displacement of existing activities and the negative impacts it can have on marine species and ecosystems.
Other chapters discuss how the growth of offshore energy generation presents new opportunities for collaboration and co-location with other sectors such as the co-location of wild-capture fisheries and wind farms. The book integrates these issues and opportunities, and demonstrates the importance of holistic marine spatial planning for optimising the location of offshore energy-generation sites.
It also highlights the importance of stakeholder engagement in these planning processes and the role of integrated governance, with illustrative case studies from the United States, United Kingdom, northern Europe, and the Mediterranean. It also discusses trade-off analysis and decision theory and provides a range of tools and best practices to inform future planning processes.
You can access the book preview online, and more information is available online.
Tags: Marine Spatial Planning, offshore energy, renewable, Routledge
Comments