Marine Scotland
Celebrating Science and Year of the Young Person with Dr Campbell Pert
May 24, 2018 by Marine Scotland Communications No Comments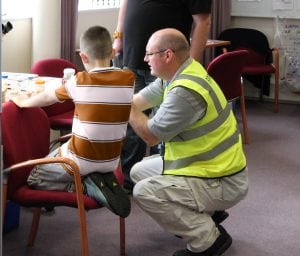 As we mentioned in one of our earlier blogs, 2018 is both the Year of the Engineer and the Year of the Young Person – and this blog is about one of our many colleagues who are inspiring the next generation with their Outreach work.
This is Campbell, our key parasitologist. What's one of them? Keep reading!
When he's not at sea on a research vessel taking part in our busy schedule of surveys, or bobbing around Stonehaven on our catamaran, the Temora, taking water samples, he's showing children his weird and whacky collection of beastie specimens!
What's your career path been – how did you get here?
I have always been intrigued by fish and the aquatic environment as I grew up close to the river Spey in Moray and was at the riverside literally everyday either fishing or walking the dog and watching the wildlife. After leaving school I went to Aberdeen University and completed an honours degree in Aquaculture before joining Skretting in Invergordon in 1998 as a quality assurance lab technician (they manufacture fish feed for the trout and salmon aquaculture industries).
However, after 2 years looking at fish pellets, I decided I need a bigger challenge and spotted an advert in New Scientist for a job at the Fisheries Research Services (now Marine Scotland Science) as an assistant site manager for a research aquarium site at Aultbea on the west coast (now since closed). My main responsibility was to ensure the health and welfare of the fish kept there (salmon, 3 species of trout, char, cod, haddock, saithe, lemon sole and halibut to name but a few!) and to assist in the design and running of experiments by visiting scientists and students.
During this time I also met my now wife who worked in the field of sea lice, a marine ectoparasite of salmon and trout, and an area I was very much interested in. As my wife was nearing the end of her PhD it was clear there were no job opportunities for her on the west coast so I started looking for jobs in Aberdeen and was lucky when the Parasitologist role became available. Initially, much of the work was looking at the parasites of cod and haddock, thought to be the next big species in aquaculture, but I have been working heavily in the area of sea lice since 2005.
What made you decide to be involved in Outreach?
While carrying out my honours thesis I was lucky enough to get a placement at the lab with Dr Tim Bowden and Dr Ian Bricknell with input from the late, great Dr Tony Ellis. All these scientists took considerable time and effort to supervise and coach me in fish immunology, an area totally new to me, but one I enjoyed and resulted in a very good thesis mark. The Marine Lab also supported me in doing my PhD on a part-time basis, between 2003 and 2011 and as such, I feel it is almost the duty of any scientist to pass on their skills and knowledge to the next generation and allow them to develop their own areas of interest and investigate the wonder that is the aquatic environment.
What do you enjoy most about doing Outreach?
For me personally it is showing the work that my colleagues and I do to young people, most of whom have no idea about the types of work carried out by scientists in Marine Scotland. Also, I enjoy fielding questions and allowing them the wonder of seeing what life exists in even small amounts of seawater, or the looks of delighted disgust when I bring along my selection of fish parasites for them to examine under microscopes!
Would you encourage others to get involved in Outreach too?
Very much so as Outreach is rewarding on so many levels as not only do young people enjoy seeing the work we do but nothing is as rewarding as doing outreach work and receiving thank you messages just for taking the time to show them what it is you actually do. Unfortunately, I am also becoming old enough that some young people I have presented my work to at Outreach events have actually been to university and are now here at the lab – it must have been something I said!
Further Information
Tags: children, science, STEM, YOYP
Comments