Marine
Sustainable Shipping for World Maritime Day
September 24, 2020 by MS Communications No Comments | Category Compliance, Fisheries, Marine Litter, Recycling Week
What is MARPOL?
MARPOL, or to give it its full title – the International Convention For The Prevention of Pollution From Ships – was first adopted by the International Maritime Organisation in 1973 after a spate of oil and chemical tanker incidents resulted in vast amounts of pollution being created in the world's oceans. In short, MARPOL is the shipping industry's all-encompassing regulations which cover all aspects of waste with regards to ships.
What does this mean in reality on board Marine Scotland's patrol vessels?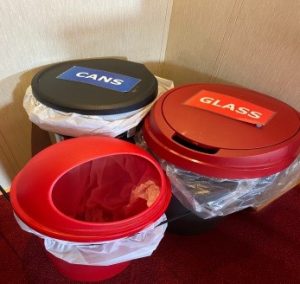 The main document we work from is the Garbage Management Plan. This details how the ship will deal with all the different types of waste on board to make sure that nothing is discharged to the sea that shouldn't be. In effect this bears many similarities to what we all have at home – lots of different coloured wheelie bins! On board we are not permitted to get rid of anything and so all of our waste has to be segregated and returned to port.
A garbage record book is required to be kept on board and it is the Chief Officer's responsibility to ensure it is updated and maintained with information about the amount and types of waste (including cooking oil) that is landed ashore. Prior to going into port, any unrecyclable material is occasionally incinerated and the quantities and position of the vessel must all be recorded in the garbage record book. When in port our recyclable materials are collected and dealt with by an approved sorting facility. This ensures that ships are not adding to the oceans pollution pr
oblems.
We also have an engine oil record book and in it we have to record all movements of oil and oily residues to and from the ship. Whether that be the fuel we use or the old oil from when the engineers give the ships engine a service. These documents are then inspected to insure that the numbers all add up and the authorities are confident we are not illegally dumping waste oils into the sea.
But what happens to the smelly stuff? Well its actually very clever. Sewage is dealt with on-board in our sewage treatment plant. This unassuming box has a bioreactor inside it which is full of bacteria and enzymes that just love the stuff that we do not. By the time it has gone through the system all of the solids have been eaten and what remains is treated water which is then discharged into the sea.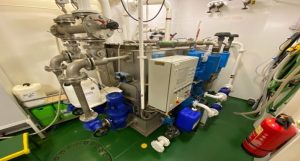 Sewage Treatment Plant
MARPOL defines certain sea areas as 'special areas' in which the adoption of special mandatory methods for the prevention of sea pollution is required. Under the Convention, these special areas are provided with a higher level of protection than other areas of the sea. The North Sea is one such special area where the discharge of oil and garbage is prohibited and has also recently been designated as an Emission Control Area to address air pollution by ships through more stringent controls on sulphur emissions and nitrogen oxides.
A Particularly Sensitive Sea Area (PSSA) is an area that needs special protection through action by IMO because of its significance for recognised ecological, socio-economic or scientific reasons and which may be vulnerable to damage by international maritime activities. The entirety of Western European Waters are designated as a PSSA and are protected by ships routing measures and mandatory reporting schemes. This is why you'll never see an oil tanker in the Minch or transiting the Pentland Firth!
Where do we go from here?
As always, in any industry we are constantly improving. Marine Scotland is continuing to invest in its vessels to reduce our impact on the environment. An easy example of this is the conversion of our lights on board to LED. This simple move helps to reduce our impact on the environment, when we use less electricity we can save fuel and so reduce our CO2 emissions. In future years meeting the requirements from the introduction of the Regulations for the Prevention of Air Pollution from Ships to drive down harmful emissions from vessels will be a key consideration.
This is all part of a large effort by the industry to improve our efficiency which is covered in the new guidance called the Ship Energy Efficiency Management Plan. This is for vessel operators like Marine Scotland to consider for existing ships and new builds. Much like comparing an old sandstone house to a new build one, with new technology comes efficiency gains and reduced running costs. This is why you will often see old ships being sold for scrap in favour of building new ones to do the same job.
Written by Benjamin Coltart, Second Officer and Scott Teviotdale, Second Officer
Tags: Marine pollution, MPV, Recycling Week, Sustainable shipping
Comments