Marine
Investment reducing harbour's carbon footprint
June 1, 2021 by Marine Scotland Communications No Comments | Category EU exit, Fisheries
Improvements to power supplies at Mallaig Harbour will help to reduce its carbon footprint and bring benefits to the fishing fleet, the chief executive of the authority has said.
Mallaig Harbour Authority received £207,410 for the installation of shore power through the Scottish Government fund set up to support ports and harbours losing income from landing fees due to the disruption caused by Brexit.
With a small local fleet and no fish market, vessels landing at Mallaig have faced issues exporting their produce over the last year with one local buyer reporting that langoustine tails sold for £6.25kg in the last landing before lockdown in March 2020 were down to an average price of £3.90kg in February 2021.
Fish dues paid to the harbour were also down 70% to November 2020, compared to the same April – November period in 2019.
In light of these issues, in February the harbour applied for the Scottish Government funding, Chief Executive of Mallaig Harbour Authority Jacqueline McDonell explained:
"The installation of shore power at Mallaig Harbour is something that the local fishermen have been requesting for years as it would provide them with electricity supplies from the quayside and mean they wouldn't have to be running generators aboard their boats at the port. However with our fishing dues down over the last year it's not something that we would have been able to invest in without this fund.
"Access to electricity at the harbour has been particularly heightened with the closure of the local Fishermen's Mission office over the pandemic, as crew would have usually been able to access those facilities too.
"It's been such a hard time for fishermen, providing this energy source for them to use instead of their generators at the harbour will save them a bit of money and provide cleaner power to boats."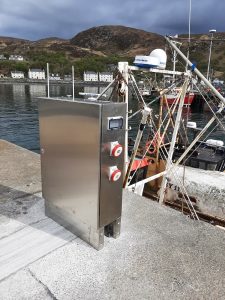 The new electric hook ups have been installed on the two piers, and provide a mixture of single phase and three phase electrical connections, depending on the requirements of the boat. Once completed there will be potential to power 28 boats from the plug in points.
Jacqueline continued:
"While we are in a fortunate position to have diverse revenue streams in Mallaig, and significant income from ferry dues and aquaculture businesses to maintain a level of turnover, it has been a nightmare for our fishing fleet. The first few months of the year were really difficult, and we saw local boats having to be tied up due to the export issues.
"This has been a fantastic opportunity to invest and support our fishing fleet during what has been a difficult time for them, and hopefully save them money, reduce carbon emissions and improve living standards aboard vessels in port.
"It will make a huge difference and give boats who are berthed for the weekend an option of where to lie, and power for things like microwaves and televisions so it can be a home from home. Access to shore power also helps to maintain the life of engines and other equipment aboard vessels, as the trickle of power means engines are not starting from cold each time."
Tags: climate change, Coronavirus, eu exit, fishing, harbour, Scottish Government
Comments