Marine Scotland
Trio of young fishers receive funding boost
November 19, 2021 by Marine Scotland Communications No Comments | Category Fisheries, Young entrants scheme
New entrants to fishing have been able to apply for Scottish Government funding towards the purchase of a second hand fishing vessel.
To coincide with World Fisheries Day we are putting three young fishermen in the spotlight who have each benefitted from a £50,000 grant from the £14 million Marine Fund Scotland to help buy fishing boats.
Part of a drive to encourage new entrants under the age of 40 into the industry, the 'new entrants scheme' enables young fishers to apply for up to 75% of the cost of buying a second-hand vessel of up to 16 metre or up to 50% of the cost of a vessel from 16-24 metre. All awards are capped at a maximum award of £100,000 to ensure affordability.
One of the young fishermen is Daniel Watson, 26, of Integrity Shellfish. He has been fishing for five years and used the grant to purchase his own vessel. Daniel fishes for brown crab, velvet crab, prawns and lobster from Ullapool and will be working his way down towards Mallaig, fishing and selling the catch on the way.
Daniel said:
"I am grateful for the support from the Scottish Government, which has helped me take the next step with my business and expand our fishing operation in Scotland.
"Without this funding, I quite simply would not have a boat of this size to support our aspirations.
"The week it arrived was particularly special as it was also the week my daughter was born. I'd like to thank my amazing partner Katie for her support and while our new-born is not quite ready to join the crew yet, who knows what the future holds!"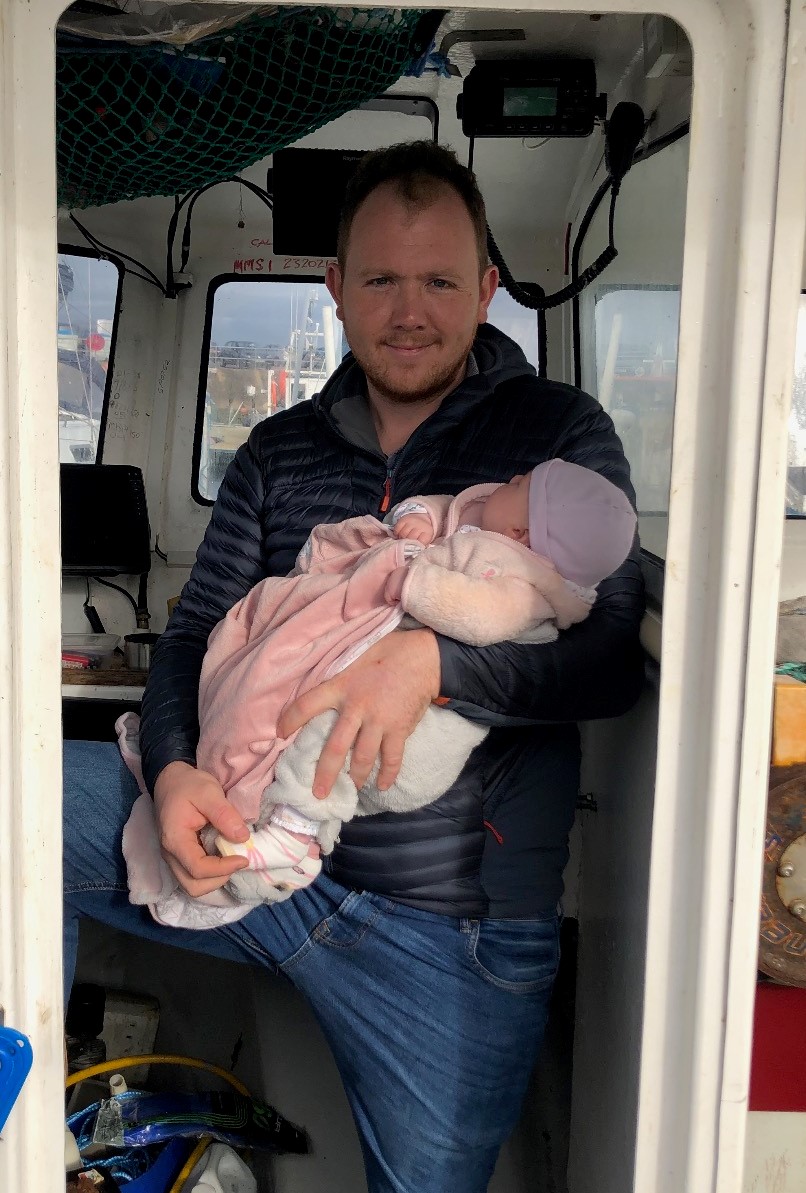 The other awards were made to John Anderson, 26, and Steven Mair, 32, who both purchased a third share in a 18m trawler, with the other third purchased by LHD fishing agents in Shetland. The 'Sharyn Louise' boat fishes from Lerwick.
John said:
"Without the grant from Marine Fund Scotland, I simply would not have been able to raise enough money to purchase my share in Sharyn Louise LK250.
"The grant has allowed me to secure my job and achieve my ambition of owning and skippering a whitefish boat. Now that I have managed to overcome the financial difficulties of getting into the industry, I look forward to making a career out of fishing which will allow me to bring up my family here in Shetland."
Rural Affairs Secretary Mairi Gougeon said:
"It's fantastic to see this funding helping to attract young talent to a sector which has struggled in the past due to perceived lack of career progression opportunities.
"These new entrants are crucial to boosting the resilience of the industry which supports jobs in some of our most rural communities.
"By supporting up and coming fishers to become a skipper or to own their boat I hope it will help inspire young people to enter and progress through the fishing industry. This is an important part of our Fisheries Management Strategy, which includes actions to promote fishing as an attractive and safe career of choice."
Background
Further information on eligibility for the young fishers scheme can be found on page 10 of the Marine Fund Scotland general guidance on the Scottish Government website. The list of successful awards granted through Marine Fund Scotland so far this year is also available to view.
Read more about the Future Fisheries Management Strategy.
Tags: fisheries, fishing, marine fund scotland, Marine Scotland, World Fisheries Day, Young entrants scheme
Comments