Participation
Stereotypes, expectations, and planning ahead
July 29, 2015 by Eachann Gillies 1 Comment | Category Our work
We've written before about the Dialogue App, and how good it can be increasing engagement and encouraging debate. The first run of the Dialogue App has recently finished, which was on Open Data in Scottish Public Services. It went well, both from our perspective as the Digital Engagement  team who facilitated its use, and from the perspective of the Open Data team who ran it.
Today, though, I had a somewhat startling realisation about expectations and stereotypes. We here at the Digital Engagement team love to talk about how important it is to know your audience. Prior to the launch of the Open Data Dialogue launch, I was personally quite confident that we'd be flooded with ideas as internet savvy open data nerds got involved and spread the word through social media and word of mouth. Whilst I'd still qualify the open data dialogue as a success, I have to admit that my prediction didn't quite come to pass.
Meanwhile, I've been delighted to have been proven wrong about the Wild Salmon Dialogue. Initially I wondered if it might prove difficult to promote the app widely enough, and to encourage people to get involved. I have to hold my hand up and admit that I was perhaps overly beholden to an idea of anglers being somewhat reclusive folk who prefer to spend their time waist-deep in a river rather than online and using an 'idea generation' tool
The feedback we've had from the latest dialogue app has proven me quite wrong, and happily so! So a small piece of advice for anyone reading: basing your anticipated uptake on a profile of your responders can be helpful, but remember that other factors can play a part too. How wide are the networks of the people you're contacting? How strongly held are the opinions you're asking for? For example, with the recent wild salmon dialogue, it is a matter of people's livelihood as well as a popular hobby & sport, which resulted in many strong and impassioned opinions being posted. Is there controversy involved? Some of the proposals from Marine Scotland were seen as such, so the interest in this dialogue was rather high. We'll post a bit more on this on our next post, so keep your eyes peeled…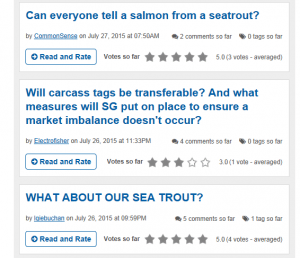 Finally, remember that the scope of your Dialogue App is important. If you're not asking for specific ideas, you might end up with a range of responses that are too broad, or none at all. Too narrow and you risk a very small response or perhaps frustration from respondents at the lack of opportunities to express themselves. As ever, communication is key!
Tags: Dialogue App, Engagement
Comments