Participation
A reflection on the last 6.5 months
June 19, 2015 by Chris Connolly No Comments | Category Our work
We're just over halfway through our trial – where has the time gone?  The Digital Engagement team was put in place for 12 months to meet three main objectives:
Improve the way we carry out consultations by using a digital platform and providing advice and guidance;
develop digital capability through guidance, workshops and seminars; and
carry out digital experiments to formulate best practice.
We've come a long way since we launched in December.  Trying to navigate the complexities of Scottish Government and promote ourselves across the organisation, we've had somewhat of an uphill battle.  Previous posts highlight the environment that we're in and some of the frustrations.  In the beginning we were reaching out to policy teams looking for ways to support them.  Now it's a struggle to keep up with all the meetings and requests!  Although, we're not complaining, it's a good problem to have. We've worked hard and enjoyed it (at least I can say it's been fun!).  Having the opportunity to learn about all sorts of policies and interesting subjects – issues ranging from management measures for crab and lobster landings in Orkney to asking questions about open data to large and complex questions around social justice. Since our launch, we have made Citizen Space the default for consultations – having published numerous consultations via our digital platform.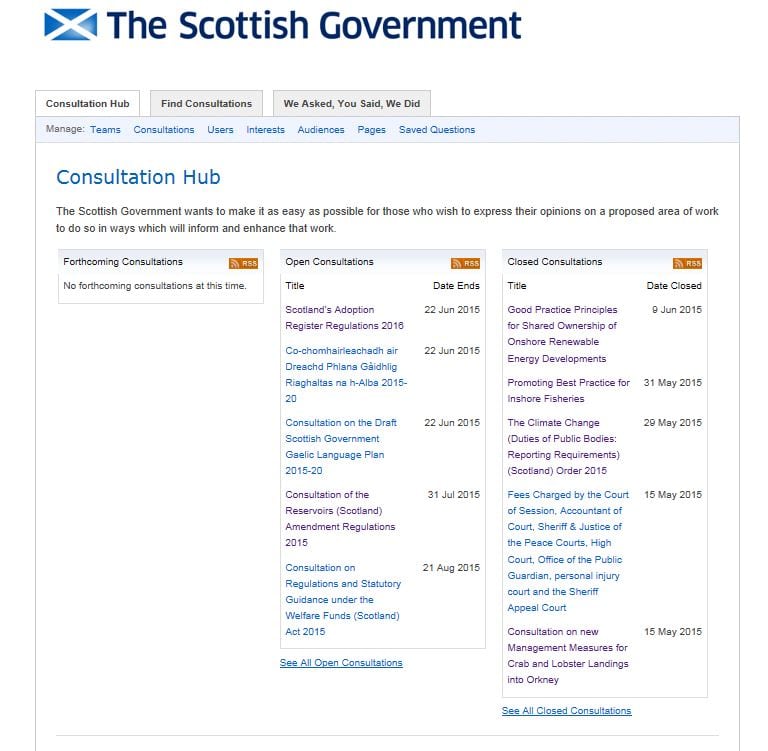 To address digital capability, we've run a number of workshops on social reporting, community management, developing a digital engagement strategy and identifying barriers to social media engagement.  The insights that we have gained have been invaluable and have helped us tailor our approach.  Things are beginning to take off and we're eager to see what we can do in the coming months.   We've helped social report on a number of events, promote public participation in policymaking, provided best practice and advice to countless policy teams and are continuing to look for ways to increase Scottish Government's openness and transparency.  We are not only working with policy teams to help engage better, we're also working with a range of colleagues to explore how we can join up efforts and support each other.  In addition, we've been actively participating in a number of internal workshops.  Our colleagues are facing similar challenges and we're keen to join up with them to face these head on.  Trying to address culture change requires a collective effort.  A favourite quote of mine is "culture eats strategy for breakfast".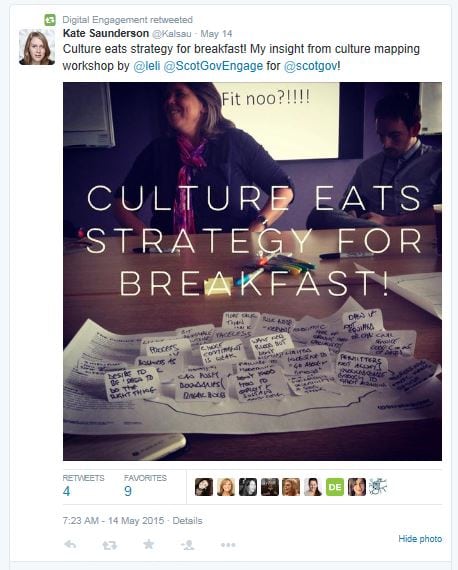 We're working to transform the way that Scottish Government engages.  As Leah has previously highlighted, there are challenges that we have encountered and continue to face.  However, in the six short months since we've come together we have made a lot of progress.  
So what's next? Well, we have a number of ongoing projects.  Today, in collaboration with our colleagues, we launched fairer.scot – a blog dedicated to receiving input on what a fairer Scotland should look like.  (Watch this space for more about Fairer Scotland.)
Additionally, the Open Data Dialogue is running and receiving great input. We'll continue to work towards our goals and challenging our colleagues.  The coming months provide an exciting time with many great projects to look forward to.  We'll keep you updated!  
Tags: Citizen Space, Dialogue App, digital engagement, policymaking, social media
Comments