Planning and Architecture
Lessons learned from the Aussie housing challenge.
December 14, 2015 by planningarchitecture No Comments | Category Architecture
Ian Gilzean is Chief Architect within Planning & Architecture Division. In December last year Ian flew out to begin a three-month secondment with Melbourne University and guest blogs to share his experience of working in Australia.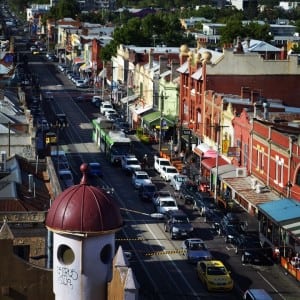 In the past 18 months Planning and Architecture Division has seen a great deal of collaboration with the city of Melbourne in Australia. It all started in 2013 when I was invited to give a lecture at the University of Melbourne on Scotland's Housing Expo, and a presentation to the Government of Victoria on our 'Creating Places' policy on architecture and place.
Following this we hosted visits from colleagues in Australia – with Geoffrey London, Government Architect for Victoria, and Prof Rob Adams, Director of City Design for Melbourne, coming over here in 2014. T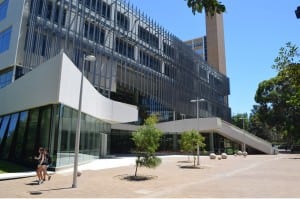 heir focus was on sharing legacy experience from the Melbourne Commonwealth Games in 2006, as well as the reasons behind the city's emergence at the top of global 'livability' rankings.
These links enabled me to take up a secondment as a Visiting Academic at the Melbourne School of Design (MSD) from January to March 2015 – conveniently timed with the Australian summer!
It was exciting time to work there as the doors of the newly completed MSD building were opened for the first time in December. The new premises are located at the heart of Melbourne University's Parkville campus. The entire building is designed as an education tool, with its exposed structures and materials giving insight into fabrication and construction techniques. The environmental performance of the building is also part of its teaching tools. It acts as a large-scale laboratory, monitoring energy consumption through sensors as well as enabling the testing of emerging technologies.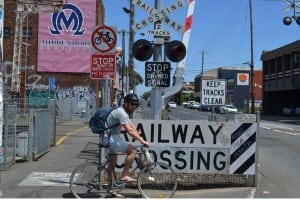 Melbourne's population is growing rapidly and is estimated to rise from four million to six million by 2030. Like Scotland, Australia also faces the demographic challenges of an ageing population and therefore housing affordability, supply, planning and design are key issues. In a city that already has vast low density sprawl, there's an urgent need for innovative new models of housing in the inner suburbs to ensure access to affordable housing is not just confined to the fringes of the city where land values are lower.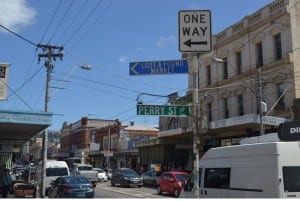 In light of this wider challenge, my key task was on the 'Transforming Housing' initiative – and in particular to review the role of demonstration projects (such as Scotland's Housing Expo) as change agents. I co-authored a research paper on the role of Housing Expos in transforming public and industry attitudes to innovation in design which was presented at a conference on 'Transforming Housing' at the MSD in April 2015. This paper will also be used at the State of Australian Cities (SOAC) conference taking place in Melbourne this December.  This has also formed the basis of a proposal to hold a Housing Expo in Melbourne which is now being taken forward and extensively references the Scottish Housing Expo in 2010 as a model of good practice.
 I also participated in an evening panel discussion on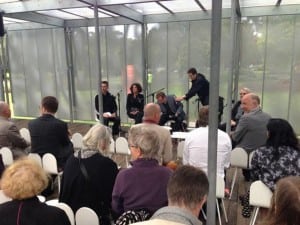 the role of the government architect as part of the MPavilion's public programme. MPavilion is a new architecture commission (similar to the Serpentine Pavilion in London).
I also gave a lecture to summer school students and staff, covering the relationship between architecture, place and landscape in Scotland – which of course could not go wrong given the images you are able to show on this topic! I also became involved in a new cross-faculty research project looking at 'design for ageing' and we shortly commission an SG research project on this topic given the similarity of the issues we face in Scotland.
I can also confirm that Melbourne's reputation as a 'livable' city is well deserved – the inner suburbs of places like Carlton, Fitzroy, Collingwood and Prahan are buzzing. They have great local high streets, lots of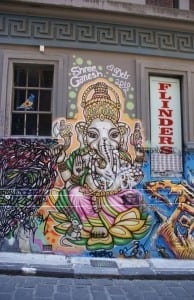 local businesses and a multitude of different food options reflecting Melbourne's ethnically diverse population.
They have great local high streets, lots of local businesses and a multitude of different food options reflecting Melbourne's ethnically diverse population. All are well served by Melbourne's extensive tram network.
Coffee is huge there and the first coffee houses to open in the Central Business District in the 1980s, alongside other improvements such as the construction of Federation Square, imaginative housing developments and the opening up of the ty centre laneways started a process of revitalisation that has helped to transform the city into the vibrant place it's become famous for.
The mild summer weather (by Australian standards – 'only' up to 35 degrees!), Andy Murray's fantastic run to the Australian Open final, seeing Belle and Sebastian at the St Kilda Palais, the Cricket World Cup and working at the new MSD building all contributed to make this a great time for me to experience life and work in Australia.
Unfortunately I won't be able to escape the Scottish winter this year, but I hope Andy Murray can go one better in 2016 and win another grand slam in Melbourne!
Ian Gilzean
Chief Architect Planning & Architecture Division
Tags: ag planning architecture, architecture, Architecture and place, Aussie housing challenge, Chief architect, collaboration with the city of Melbourne, creating places, Ian gilzean, melbourne, place standard, Placemaking, planning, planning architecture blog, planning awards, planning blog, Scot gov planning, scottish government, scottish government architecture, sg planning architecture
Comments