Planning and Architecture
Designing Places Student Competition 2018
March 21, 2018 by planningarchitecture No Comments | Category Architecture
Date: 17th March 2018
Location: The Lighthouse, Glasgow
This year's Designing Places Competition took place on St Patrick's Day, at The Lighthouse, in Glasgow. The day was led by the Scottish Government through Susie Stirling (Head of Placemaking and Housing) and Kristen Anderson (Senior Planner) supported by Ian Alexander (JM Architects), Rowena Statt (Anderson Bell Christie). At the end of the day Ian Gilzean, the Government's Chief Architect, was joined by Danny Mckendry (Architecture and Design Scotland) who acted as Judges, together with Ian and Rowena, and presented the winning team with their book prizes.
Built environment students, from across Scotland, studying courses in architecture, landscape architecture, urban design, environmental management, real estate and planning attended the one-day live masterplanning class which this year focused on Montgomerie Park (North Ayrshire Council). The site was specifically selected because it is one of the Government's Simplified Planning Zone pilot projects to help bring forward housing delivery. The other local authorities involved in the pilots are Dumfries & Galloway and Argyll & Bute.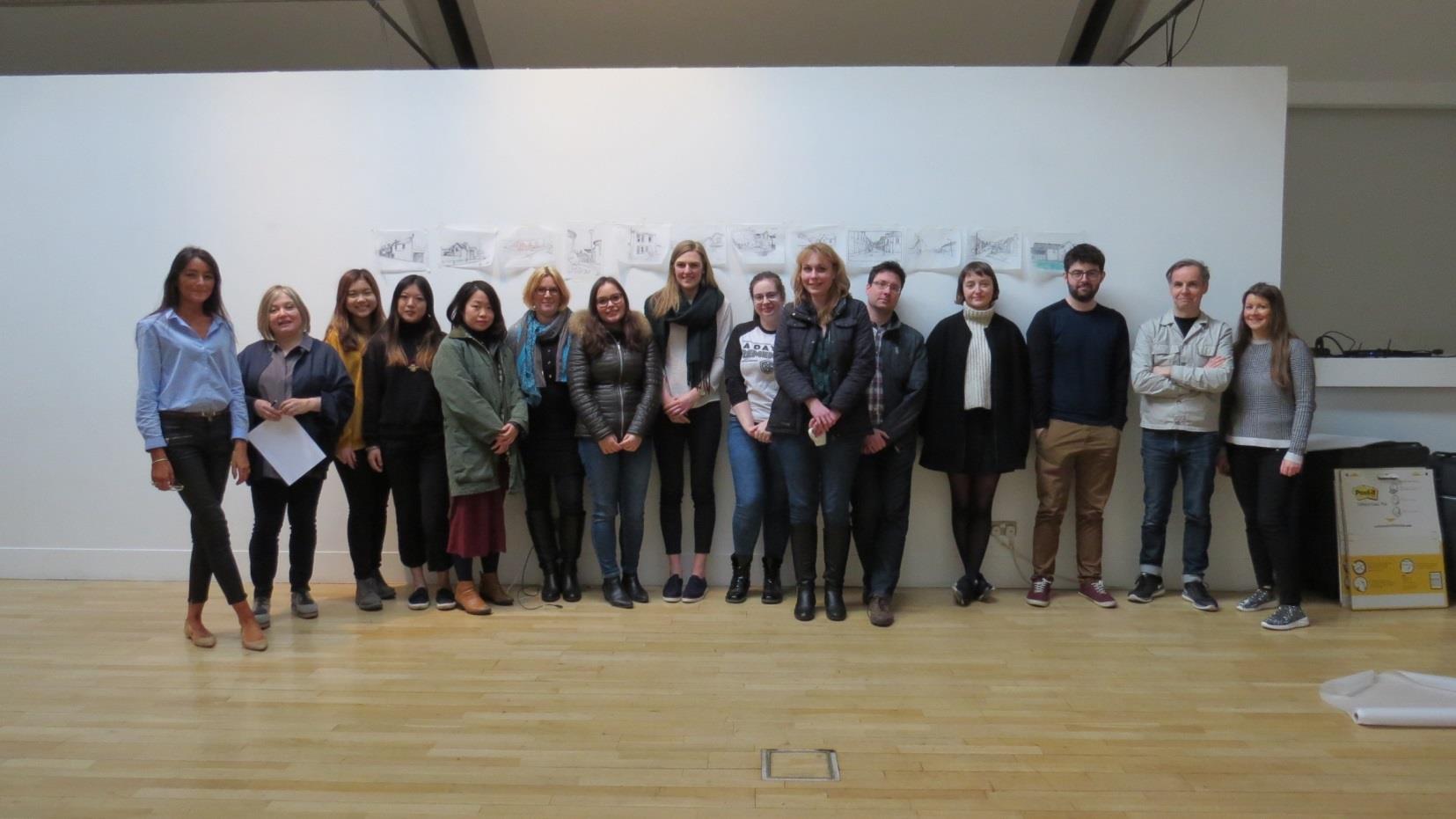 For the first time, this year's Competition, was accompanied by drone footage of the area, courtesy of Central Scotland Green Network. The aerial views were a superb way to help students understand the site and its surrounding landscape. Thereafter, the students were tasked with creating detailed masterplans. The teams worked hard at designing and sketching their ideas to create a new residential place, to live and relax, that also reflected the qualities of a successful place. The Judges were impressed with everyone's dedication and way of working in multi-disciplinary groups. Overall, the outputs were inspirational – especially with 2018 being the Year of Young People – and a great outcome from some intense design learning on the day.
The winning team called themselves 'The Witty Girls'. They created a masterplan called 'Park Avenue Views' which was thoughtful in approach, clearly presented and heavily illustrated. Their concept was to design a layout which worked with the connections, into the site, to create two parcels of space that that were able to benefit from new community uses. Their masterplan also captured a good sense of scale in terms of the proposed building blocks – all held together through strong landscape vision.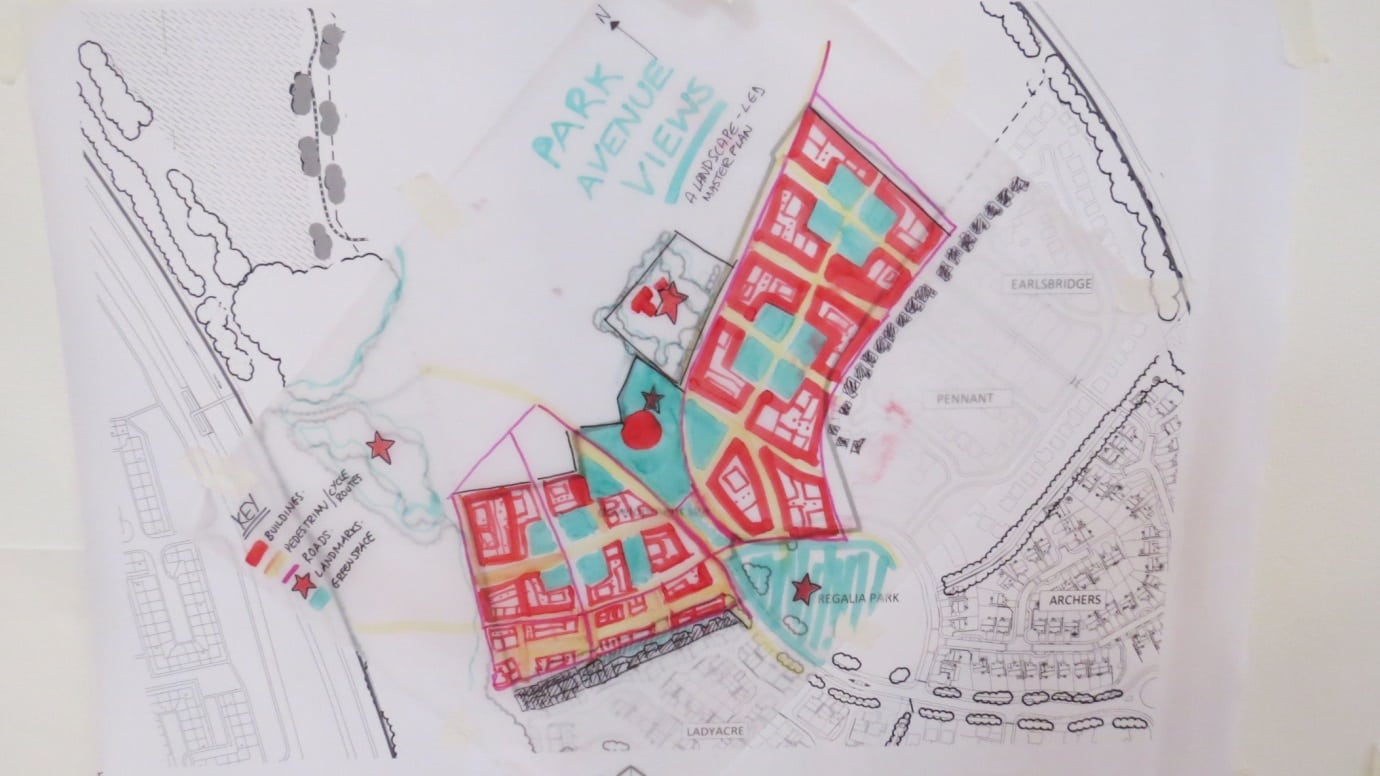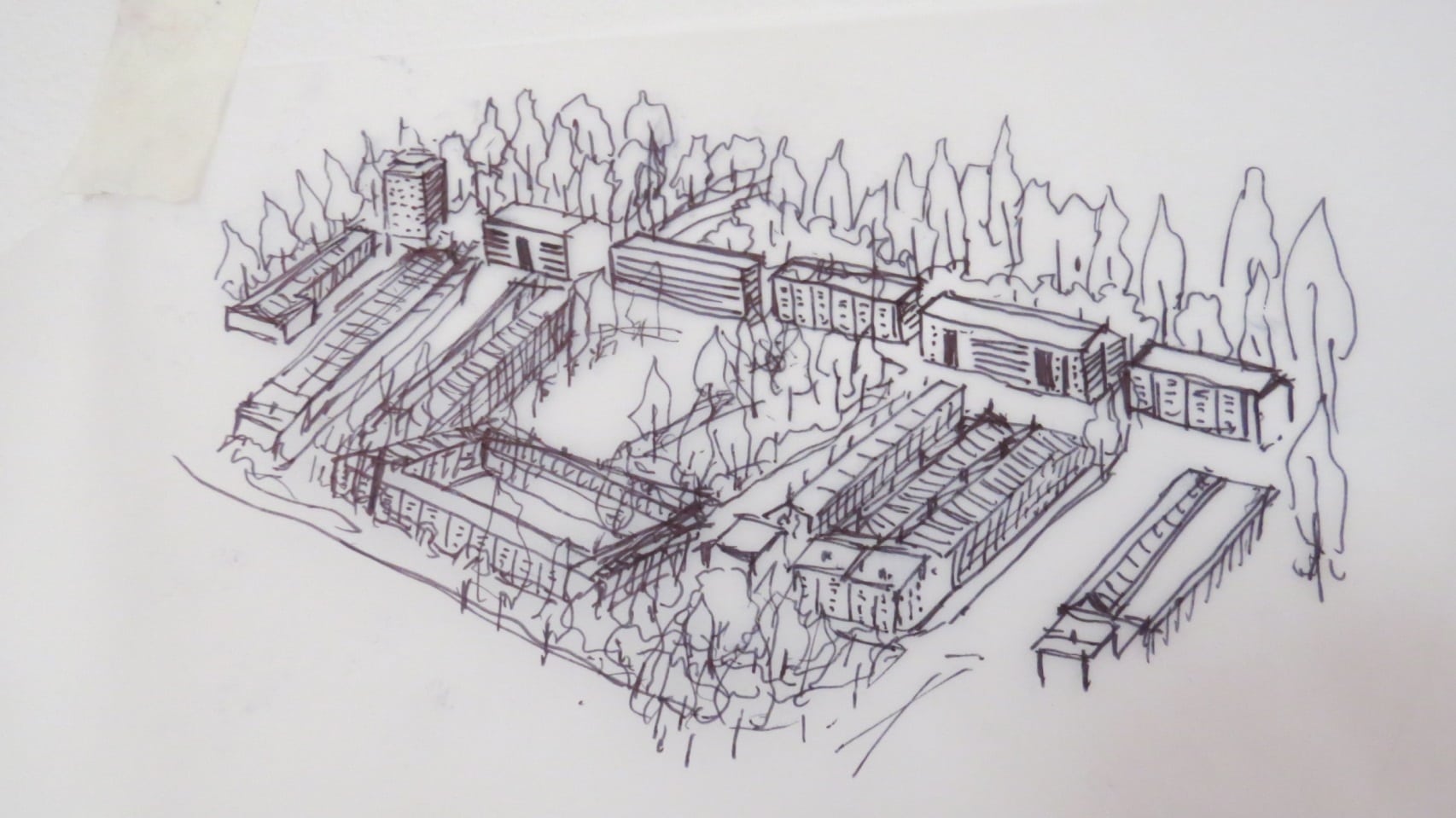 Winning team 2018
Elva Chan – University of Edinburgh – Architecture – Year 2
Kathryn Cockburn – University of Glasgow – City Planning and Regeneration – Year 1
Bobbie Nicol – University of Edinburgh – Landscape Architecture – Year 5
Julie Papouskova – Heriot Watt University – Urban Planning and Property Development – Year 3
The successful students will be invited to the Government's Scottish Quality Awards for Quality in Planning ceremony, in November, where they will receive their certificates. Last year's successful students can be seen (below) at the ceremony. The 2017 team called themselves 'The Pentagon' and the creative design, for their masterplan in the Scottish Borders was entitled 'The Boardwalk'. In addition to the Winning Team, Mridusmita Devee (Strathclyde University) received a Special Prize for her commitment and contributions on the day on the competition.
Winning team 2017
Anna Larsen Moldenaes – University of Dundee
Callista Lim – University of Dundee
Linda Velika – University of Edinburgh
Dakota Wilson – Strathclyde University
Kai Zhu – University of Edinburgh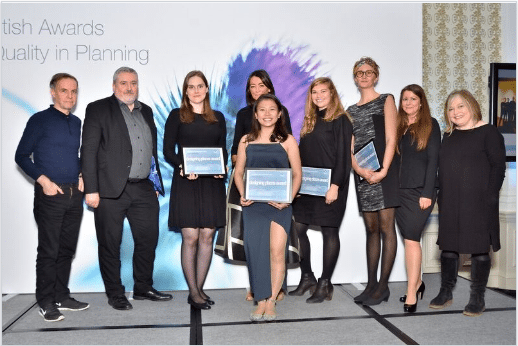 With thanks to everyone who took part in an exciting day of place making. For those students who were unable to make the event, due to unanticipated study pressures, they will be welcome to sign up next year – for what will be the 10th Anniversary of the Student Design Competition. We're looking forward to it already!
Tags: Architecture and place, creating places, Placemaking, planning, planning awards
Comments