Public Procurement and Property
Scottish Apprenticeship Week guest blog
March 4, 2020 by Lorraine Carlyle No Comments | Category Guest Blog, Modern Apprenticeships, Procurement news, Scottish Procurement
As part of Scottish Apprenticeship Week we asked one of our newest Modern Apprentices to tell us how he's getting on in procurement. Here's Jack Graham's story.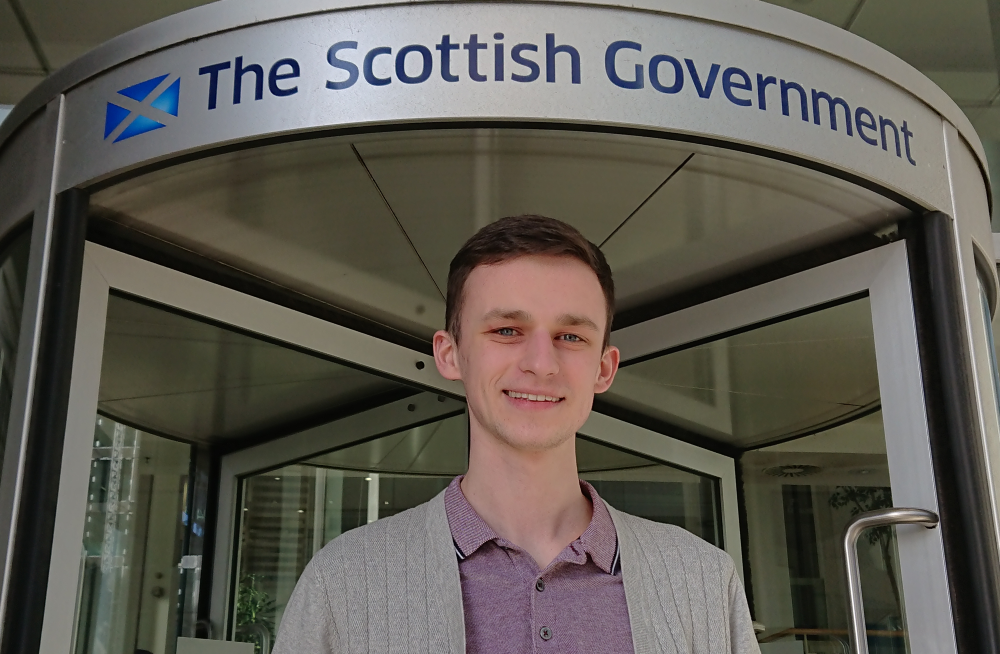 I graduated from the University of the West of Scotland with an honours degree in Society, Politics and Policy in the summer of 2019. I was feeling a bit at a loss and not having the clearest of ideas of where I wanted to go with my future career. The ever growing fear of trying to find a Graduate Scheme loomed and job prospects started to feel more limited.
The ideal scenario for me was incorporating my passion for politics into a field of work where I wouldn't be doing the same thing day after day. I wanted to be challenged to the best of my abilities. Through job searching I found, what to me is, an ideal entry level job combining everything I was looking for – the Procurement Assistant Modern Apprenticeship with the Scottish Government.
Interview stage
The job appealed to me as it incorporated a lot of what my degree is about and the chance to gain an entirely new qualification as well! What also helped was that I'd be getting paid at the end of each month! The job application was a relatively straightforward process, the Scottish Government gave a list of essential criteria that they looked for in their ideal candidate. I provided a 250 word answer for each of the criteria, a tip here is to remember and stick to the STARR (Situation, Task, Action, Response, Reflection) approach. It goes a long way in helping structure your answers properly!
Not long after submitting my application I was invited to attend an interview. What worked well for me was the timescale, I had a couple of weeks to prepare and become confident in presenting the best version of myself. And on the day I was really made to feel at ease by the panel who instilled a friendly and relaxed atmosphere for the interview.
Working in procurement
After going through all the processes I now find myself a couple of weeks into my new post as Procurement Assistant Modern Apprentice. To ease my nerves I met with my line manager before my start date, and was introduced to the team and the work I would be undertaking. I find the work challenging and constantly changing, one example of being thrown right in at the deep end was when I attended a meeting about Updates on Case Law. Having no prior experience of this I initially felt out of my depth, but have now started to find my feet and am cracking on with the work!
My team are fantastic and are more than happy to support my Modern Apprenticeship program to make sure I learn and do the best I can in the organisation. I would actively encourage anyone and everyone, from school leavers to future university graduates, to those wanting a new career change to seriously consider applying for a Modern Apprenticeship. I promise you won't regret it!
Tags: Modern Apprenticeships, Scottish Procurement
Comments