Rural and Environment
City greenspaces
February 15, 2017 by Roseanna Cunningham MSP No Comments | Category Environment
Earlier this week I had the great pleasure of visiting Bawsinch & Duddingston Loch Wildlife Reserve in the centre of Edinburgh to hear about the Edinburgh Living Landscape Project and the work of Scottish Wildlife Trust relating to developing a natural health service.
Living Landscape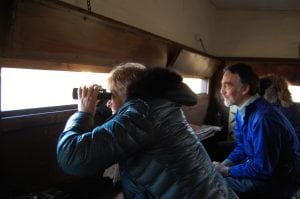 The wildlife reserve is a fantastic example of how a city centre greenspace can make a significant contribution to the concept of living landscapes. Living landscapes aim to deliver environmental, social and economic improvements to an area, by rebuilding the natural environment on a larger scale – helping to combat climate change and the loss of biodiversity.
Delivered by the Wildlife Trusts, and driven by the aspirations of local people, the project I visited is working to restore and connect green areas of the city to make attractive and biodiverse landscapes, that can be enjoyed by both people and nature.
The project involves a host of activity from the creation of floral meadows and planting woodlands to reducing how often areas of grassland are cut to allow nature to thrive and mowing pathways through grassy areas to enable people to explore more.
These are really simple, yet incredibly important steps that all add up to improving the biodiversity of our towns, reconnect local communities with local greenspaces while emphasising the link between healthy environments and our own wellbeing.
Branching Out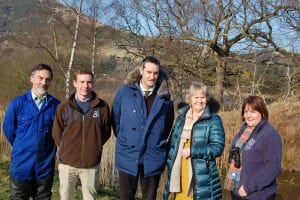 Our natural environment and associated green infrastructure are also important assets for increasing physical activity though green exercise. It was therefore great to hear about the Branching Out scheme, which uses Scotland's natural environment to get people outdoors, get them active and improve their mental health.
One in four adults will experience mental health problems at some point in their lives. Living close to accessible greenspaces can lead to longer life expectancy and populations living in greener environments have lower levels of income-related health inequality.
Delivered by Forestry Commission Scotland, NHS Scotland and Edinburgh & Lothian Greenspace Trust, Branching Out, links in with the NHS by taking group referrals into the countryside to take part in activities such as conservation, tree identification, willow weaving and furniture building with participants reporting improved mental wellbeing.
Simply by going outdoors and having contact with nature can help you reduce stress, improve your moods and self-esteem while providing meaningful social contacts. That is why it's so important that the Scottish Government continues to support a range of activities aimed at improving opportunities for Scots to be active in the outdoors.
Great day out
Having thoroughly enjoyed my time at the Bawsinch and Duddingston nature reserve, I firmly believe that our towns and cities need more green spaces and less grey infrastructure if we are to support sustainable development, provide space for our wildlife to flourish and promote increased levels of physical health and mental wellbeing. For example, we continue to support the Central Scotland Green Network, Europe's largest greenspace initiative, which is transforming our central belt and it is initiatives like the ones I saw today that help bring it alive.
I am committed to continuing action on biodiversity protection, habitat restoration and encouraging our citizens to live more active and healthy lifestyles. Earlier this week, right in the heart of urban Scotland, I saw this in action. The connection between green infrastructure, a healthy environment, a strong economy and our overall well-being. I would encourage all readers to put down the TV remote and head outdoors, wherever you live.
Tags: Biodiversity, NHS Scotland, Roseanna Cunningham, Scotland, Scottish Government, Scottish Wildlife Trust
Comments