Rural and Environment
Europe Day – Rural Secretary Fergus Ewing
May 9, 2018 by Alan Bannon No Comments | Category EU, Farming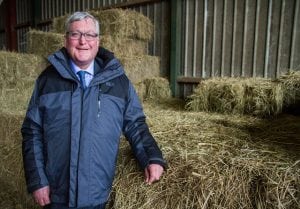 Across Europe today, thousands of people are taking part in visits, debates, concerts and other events to mark the annual Europe Day. It's a celebration of the European Union, at a time when there is more focus on our relationship with that union than any time, since the UK joined in 1973.
And of course, today marks what is likely to be the final time that Scotland participates in those celebrations as a full member of the European Union.
Membership has undoubtedly been a huge boon for Scotland's rural economy over those years and many are now wondering what the impact of leaving the EU will have on the people in Scotland – not least on those who make their living from the land.
To put into context – rural Scotland is home to one fifth of Scotland's population and 51,000 registered small and medium-sized enterprises. Our farmers are considered as the 'backbone' of our rural economy. They provide the raw material behind the global success of our food and drink sector.
In many instances, those farmers work within fine profit margins, and depend on European Common Agricultural Payments to survive. Those payments amount to more than £5 billion, between 2014 – 2020: much of which finds its way back to the rural economy via labour and goods.
Those farmers are expected to face a double whammy of losing around £500 million per annum in support, whilst also having to pay higher tariffs on their goods.
Scotland's rural economy also benefits from access to seasonal workers, thanks to freedom of movement throughout the European Union, with our soft fruit and vegetable sectors employing an estimated 15,000 non-UK workers on Scottish farms every year. One of my priorities moving forward, is to ensure that the UK Government engages with those workers and reassures them that Scotland, and the whole of the UK remains an open and welcoming place to live and work. Retaining access to this talent pool is essential to meeting the needs of rural businesses.
As a European Union member, Scotland has also hugely benefitted from the protection of Scottish products under the EU protected food name scheme. The scheme recognises and highlights traditional foods, which are usually specific to certain regions. This provides Scottish products including Scotch Beef and Stornoway Black Pudding with legal protections, and ultimately prevents imitation from other parts of the world – protecting vital local jobs and industries. Not only that, but the regularity frameworks help to maintain food safety, and animal and plant health standards. These are standards that cannot, and will not be compromised after Brexit.
In terms of infrastructure, for 45 years Scotland's rural and urban areas have benefitted from vital European structural funding, resulting in considerable investments to key sectors, and making a significant difference to regional economic development across the country.
For example, between 2014 and 2020, over £800 million in European funding is set to be invested in Scotland via the European Regional Development Fund (ERDF) and the European Social Fund (ESF).
That funding supports projects in every part of Scotland and has underpinned the creation of infrastructure required to support a strong economy: from the building of new roads, harbours and causeways, to the strengthening of digital infrastructure in Scotland's cities and rural areas.
There are no guarantees on EU funding streams after the UK leaves the EU, meaning that a number of sectors of the Scottish Economy face an uncertain future.
"That saddens me, not least because of my own personal connection with the EU through my mother, Winnie Ewing, who as MEP in the 1970s did so much to put Scotland on the European map that she was known everywhere as 'Madame Ecosse'."
Scotland's membership of the European Union has benefited Scotland's rural economy and communities hugely. We should celebrate that today.
But Europe Day also reminds of all we stand to lose, which is why this government believes our future is best served through membership of the EU.
Today also highlights the on-going uncertainty about what the future holds for families and businesses all over rural Scotland.
As Scotland's Rural Economy Secretary I reiterate my commitment to press the UK Government for the certainty our rural, coastal and island communities need post Brexit. This Government will do all it can to secure the best possible future for everyone who lives in rural Scotland and contributes to our rural economy.
Comments