Rural and Environment
June 29, 2018 by Roseanna Cunningham MSP No Comments | Category Climate Change, Environment
I am delighted to publish this discussion paper inviting views on developing an Environment Strategy for Scotland.
The Scottish Government has already shown its environmental leadership with its commitments to tackle climate change, waste and air pollution. This new strategy is an opportunity to set an ambitious long term path and establish us as a country that is leading global action to address environmental challenges.
We've almost halved our greenhouse gas emissions and met our statutory climate change target for the third year running #scotclimate @strathearnrose pic.twitter.com/kAfhyZk7GJ

— Scot Gov Greener (@GreenerScotland) June 29, 2018
Our proposed strategy will help us set out priority areas where we can focus our action and resource.
It invites your feedback on the following draft vision and outcomes, as well as  draft knowledge accounts which bring together the wealth of evidence on Scotland's environment held by the Scottish Government, public bodies, research institutes and other organisations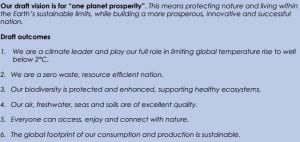 The new Environment Strategy will build on the great progress we have already made so we can continue to cut greenhouse gas emissions and tackle air pollution, protect and enhance biodiversity, restore ecosystems, increase natural capital and work to reduce Scotland's international ecological footprint. It will create a shared statement of ambition for all those working to protect Scotland's environment and set out our contribution towards addressing global challenges.
Our discussion paper on an Environment Strategy for Scotland is now live!!! This new strategy will help us set out priority areas where we can focus action and resource #environmentstrategy https://t.co/sVYE7nXEiP pic.twitter.com/ZoGJk6AhLs

— Scot Gov Greener (@GreenerScotland) June 29, 2018
We already have some great policies and ambitions in place such as our Climate Change Plan and Making Things Last circular economy strategy. Developing an Environment Strategy will bring all this work together to help coordinate and prioritise our actions and resources, to be even more effective in achieving Scotland's world-leading environment and climate change ambitions.
No one can be certain on how future technologies, trends or even Brexit will affect our environment but we should be confident and ambitious about what we can achieve over the short to medium-term, while maintaining our focus on the long-term vision and global ambitions for the environment.
I would encourage anyone with an interest in shaping Scotland's future environmental policies and priorities to put forward their views as part of this discussion which runs until 24 August.
Tags: circular economy, climate change, environment, environment strategy
Comments