Rural and Environment
This week: 05/07/19
July 5, 2019 by admin No Comments | Category Agriculture, Climate Change, Environment, food and drink, Wildlife
Aquaculture innovation funding
Rural Economy Secretary Fergus Ewing announced £743,000 for aquaculture innovation projects.
Rural support payments
Rural Economy Secretary Fergus Ewing announced that the Scottish Government has met the EU payment threshold of at least 95.24% for all 5 CAP Pillar 1 schemes being paid by the deadline of 30th June 2019.  More than £500 million of rural support payments have been made so far this year – 18% more compared to the same time last year.
Island visits
Rural Affairs Minister Mairi Gougeon visits the Isle of Harris Distillery and other local food and drink producers in Stornaway. She also visited St Kilda to discuss nature conservation, historic building preservation and seabird populations.
Food waste recycling
Environment Secretary Roseanna Cunningham welcomed a 40% reduction in Scotland's food waste between 2012 and 2017. Approximately 158,500 tonnes of household and commercial solid food waste was collected and recycled in 2017 – the equivalent of taking 22,004 cars off the road in the UK for a year.
Find out more about Scotland's food waste reduction
Biodiversity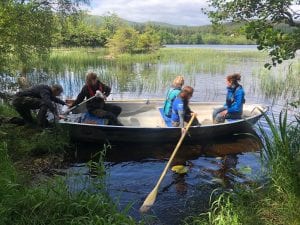 Ten years after helping to release one of the first beavers in Scotland, as part of the species' reintroduction, Roseanna Cunningham visited Knapdale, Argyll to hear about how they have adapted to their new surroundings.
Tags: aquaculture, foodwaste, innovation
Comments