Rural and Environment
In the News: £160 million returned to Scotland
September 5, 2019 by admin No Comments | Category Agriculture, EU, Farming, food and drink, Uncategorized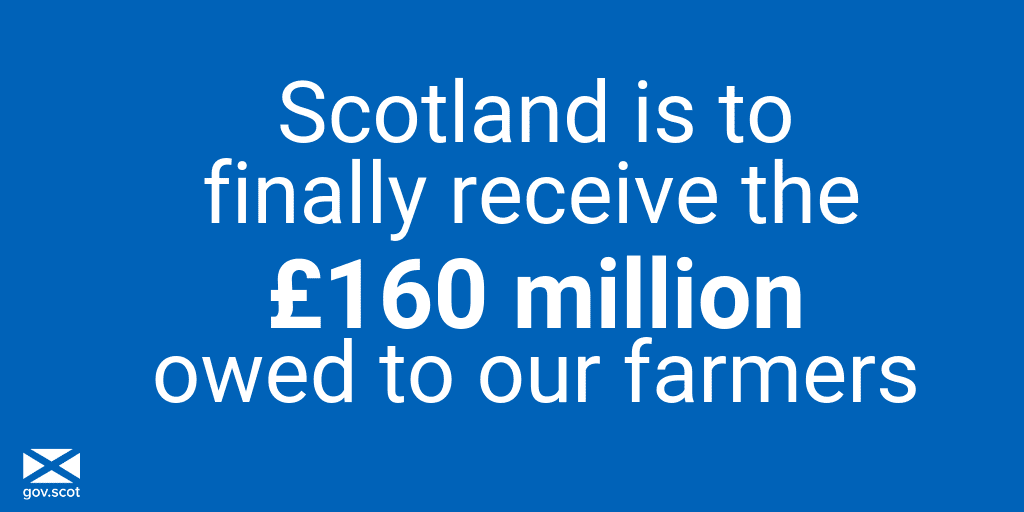 You will have seen in the news that in yesterday's Spending Round statement at Westminster, that the Chancellor finally confirmed that the UK Government would right a historic injustice around EU farm payments.
In 2013, the EU announced moves to pay Common Agricultural Policy payments more fairly, on the basis of average Euros per hectare. The UK received what was known as a convergence uplift only because of Scotland.
However, the UK Government decided to spread the payments across the whole UK farming sector instead of returning the money to where it was earned.
Welcoming the Chancellor's confirmation that the convergence monies would be returning to Scotland, Rural Economy Secretary Fergus Ewing said:
"I have doggedly argued for this money to be repatriated to Scotland's farmers and pressed the UK Government to right this historic injustice, which has deprived farmers, crofters and land managers of vital support. So I welcome today's announcement by the UK Government, that Scotland will at last get the £160 million we are due.
"This shows what can be achieved when parliament and stakeholders all work together in the interests of Scottish farming. In particular, I want to thank Jim Walker for his efforts in recent months to help secure this outcome.
"I have already made clear, that should we receive what has now been promised, this funding will be ring-fenced for agriculture. I now call on the UK Government to return this money as soon as possible."
Tags: £160 million, convergence, Farming, Scotland
Comments