Rural and Environment
Supporting communities on our journey to net-zero
November 11, 2019 by johnfitzgerald No Comments | Category Climate Change
Climate Change Secretary Roseanna Cunningham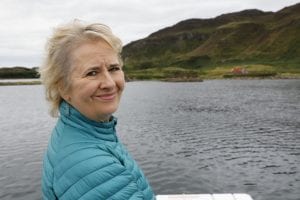 Two weeks ago, our new Climate Change Bill received Royal Assent. We now have, in law, by far the most stringent climate legislation of any country in the world.
Our journey to net-zero emissions will require different and more difficult choices than has been the case to date and it will take national endeavour to end our contribution to climate change within a generation.
We will all – Government, business, public bodies and, of course, communities – have a role to play in supporting the transformational change required.
 This brings me to the Climate Challenge Fund which has, for 11 years, supported over 1,000 community groups and projects to tackle climate change. As some of you will know, we undertook a review of the Fund earlier this year, and I would like to take this opportunity to share some of the key findings.
For me, the most important thing that we heard was a strong message that the Climate Challenge Fund has played an important and valued role in helping Scotland's communities address climate change.
However, the majority of people we spoke to also told us that, while supporting communities to address climate change was still relevant, the Climate Challenge Fund, as it stands, needs to be revised.
A majority of those who took part in the review also support the widening of the fund to include established organisations working with communities, improve strategic and networking opportunities, and encourage shared learning.
There was also strong support for longer term funding and for smaller amounts, with stakeholders reporting that it is often challenging for short-term projects to fully achieve their objectives or have a long-term impact on people's behaviour and equally challenging for small groups to spend the funds allocated to them.
More information on the findings of the review are now on the Scottish Government website for those of you who would like to see more detail.
Last week, I had an opportunity to share these findings and set out what we intend to do with them at a Climate Change Gathering at Dynamic Earth in Edinburgh.
I  was pleased to announce the creation of Community Climate Action Hubs which will come into being next year.
The network of regional hubs will be spread across Scotland – including one specifically for our islands.
This approach will allow the Scottish Government to more effectively support Scottish communities in making the transition to low carbon and climate resilient living by providing a more strategic regional approach to climate change action.
The hubs will provide support in their local areas, helping groups to take advantage of community funding opportunities, and reducing the administrative burden on projects – a clear ask from those who contributed to the CCF review.
Giving hubs a regional focus will enable them to oversee activities within a distinct geographical area. It will encourage knowledge sharing between projects with similar aims, helping to reduce duplication and making better use of resources.
The hubs will also facilitate better networking, ensuring a joined-up approach is being taken to tackle climate change at a regional level, that knowledge and lessons learned are widely shared: and importantly avoiding duplication.
We also intend to offer multi-year funding for projects, allowing them to embed more fully in their communities and deliver long-lasting behaviour change.
The procurement process for the regional hubs will begin this winter and will be open to established organisations and community groups with a regional presence.  Importantly, while we have a vision for how this new system will work in practice, there will be opportunity for community groups to influence how we may wish to adapt our approach in each part of the country to ensure it reflects differing local circumstances.
I believe that the new approach to community support will ensure that climate change is seen as a key consideration in all community projects and activities. It provides a strong opportunity for communities to continue to lead societal change and make Scotland a greener and happier place to live.
I would like to thank everyone who has helped to shape our new approach and look forward to sharing further details in due course.
Comments