Rural and Environment
Sustainable Tourism
September 19, 2020 by Fergus Ewing MSP No Comments | Category Environment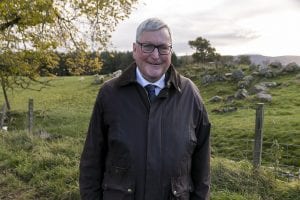 At the launch of our new tourism strategy back in March, our aim was to be world leading in 21st century tourism. So much has changed since then due to the coronavirus pandemic and the tourism sector has been one of the worst hit industries due to lockdown and the following restrictions.
Despite this, as we continue to navigate our way through this crisis and work towards recovery, the aim for our tourism industry to be world leading has not diminished.
Recovery will not be a short and easy task. At the forefront of our ambition is the aim that our recovery is as safe and strong as possible – ensuring the sustainability of jobs in the sector. Equally, we feel it is absolutely necessary that the rebuild is environmentally friendly.
We are in the process of transitioning to a net-zero emissions country – for the benefit of our environment, our people, and our prosperity. It must be said that to reach net-zero it is a collective responsibility of everyone in Scotland.
Whilst the majority of people support these aims we have seen some examples of poor behaviour and a lack of understanding of how to respect the environment this summer. We are working on a comprehensive range of policies and plans that will tackle 'dirty camping' and wider issues such as anti-social behaviour that has been shown by a small minority. We want everyone to be able to enjoy our beautiful country and for it to be as accessible as possible.
The strategy looks for us to grow the value and positively enhance the benefits of sustainable tourism across Scotland by delivering the very best for our visitors, our businesses, our people, our communities and our environment.
Scotland has some of the most wonderful scenery and landscapes in the world – and we know people come from far and wide to experience. Recent global estimates show that tourism is approximately responsible for eight percent of carbon emissions. It is therefore imperative that we reimagine a tourism sector that puts the environment at the top of our priorities.
Our strong commitment to reaching net-zero has helped us gain the respect globally for our ambition and leadership on climate change.
Sustainable tourism is also essential to our local communities – helping support local businesses whether that be restaurants, bars, museums, art galleries amongst others.
Arbroath Abbey is an excellent example of sustainable tourism in Scotland, the attraction site is a gold member of the Green Tourism Business Scheme – which assesses waste management, effectiveness of use of energy and biodiversity and procurement.
We have already committed £9 million to the Rural Tourism Infrastructure Fund – this will in turn help protect our treasured, vulnerable rural visitor sites by supporting sustainable developments.
One development that has benefited from the fund already is the Old Man of Storr on Skye. We granted almost £185,000 to enhance visitor access and help protect the iconic landscape.
Sustainable, inclusive growth is about increased value for all and whilst it won't be as straightforward as we'd hope – we are determined to use our new tourism strategy as a force to deliver that growth.
Tags: climate week, environment, Scottish Government, tourism
Comments