Scotland's Economy
Autumn Statement response
November 24, 2016 by Derek Mackay MSP No Comments
Yesterday, the true cost of Brexit was revealed – and it is huge. Lower growth, lower tax revenues, higher borrowing, higher debt and, perhaps worst of all for family budgets, higher inflation.
Here is what I had to say immediately after the Chancellor made his statement:
.@DerekMackaySNP on #AutumnStatement: the real cost of Brexit is revealed – lower growth & tax revenues, higher borrowing, debt & inflation pic.twitter.com/Pz2R6u2fpM

— Scottish Government (@scotgov) November 23, 2016
Under these plans, Scotland will see a real terms cut to the day-to-day budget that pays for public services. By 2019-20, it is expected to be almost 9% lower over the decade, reducing the scope we have to mitigate against UK Government austerity and invest in growing our economy.
I welcome the UK Government's commitment to working with us to deliver ambitious City Region Deals for Stirling and Clackmannanshire and the Tay Cities. The Scottish Government has been consistent in its support for deals for these areas for a considerable amount of time and I am delighted that the Chancellor has finally confirmed he will join us in discussions. This represent an opportunity to unlock investment in these regions, boost economic growth and invest in infrastructure.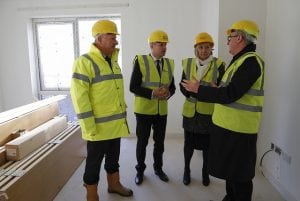 Earlier in the day, I visited a National Housing Trust (NHT) development in Edinburgh. In stark contrast to the silence and inaction of the UK Government we have taken swift action in the wake of Brexit to support the economy by bringing forward an additional £100 million of capital investment.
The difference in approach towards how we grow our economy could not be more different between our two governments.
.@DerekMackaySNP calls on chancellor to give "single market certainty" in #AutumnStatement https://t.co/cBYLWtjqfA pic.twitter.com/fj9s3OcIv5

— BBC Scotland News (@BBCScotlandNews) November 23, 2016
Even on this much heralded investment in infrastructure, all we have seen is the Chancellor moderating cuts already imposed on Scotland. As a result, Scotland's capital budget will still be around 8% lower in real terms across this decade.
Most shocking, perhaps, is the Chancellor's failure to commit a single extra penny for the NHS today. This blatant disregard of our public services is deeply worrying. I am also concerned by the lack of commitment to the single market which would have provided a level of certainty in light of the weak economic outlook created by Brexit.
It is also deeply disappointing that the Chancellor has not chosen to implement the strong package of support needed for the North Sea which continues to be impacted by low oil prices.
Above all, this was a massive missed opportunity to end austerity. The Chancellor has failed to ease the punitive cuts that are hitting so many Scottish families. Instead he has continued the damaging austerity that is hitting the budgets for public services, hammering family finances and failing to revive the economy.
Today's Autumn Statement is effectively tinkering around the edges and, while I welcome the focus on capital expenditure, there is still not enough to help hard pressed families.
I will publish the Scottish Draft Budget next month that will support our economy, tackle inequality and provide high quality public services for all – underlining the very different approaches our two governments take.
Comments