Scotland's Economy
Fairer employment support
January 3, 2018 by No Comments | Category Employment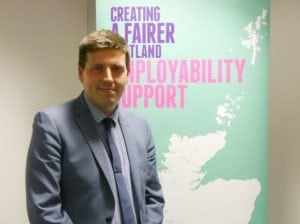 A series of events will be held in nine areas across the country, to prepare for the roll out of the new £96 million Fair Start Scotland employability service in April.
The service will aim to help at least 38,000 people over three years, find employment, including those facing barriers to entering the labour market.
The programme follows on from the one year transitional services Work First Scotland (WFS) and Work Able Scotland (WAS) which will run until March 2018. Statistics covering the initial six-month period showed that a total of 3,459 people were supported by these services.
Following the success of November's Ministerial Summit on Employability and in the run-up to April's launch, roundtable events will be organised with delivery partners, to discuss and agree specific actions to ensure the effective roll out of services at a local level.
Minister for Employability and Training Jamie Hepburn said:
"The success of our transitional services is proof that our targeted approach to employment support – which serves people without the threat of sanctions – works.
"Fair Start Scotland will build on this solid foundation, ensuring thousands of people with disabilities and health conditions will be supported by high quality services, designed for their needs, delivered locally and that treats them fairly and with respect.
"Over the next few months I will be visiting the nine Fair Start Scotland areas to continue to build momentum and ensure that we are prepared to deliver effective, person-centred support from April 2018."
Tags: employability, employment, employment support, Labour Market
Comments