Scotland's Economy
This week – 27/07/18
July 27, 2018 by taylorscott No Comments
Glasgow Fire Recovery Fund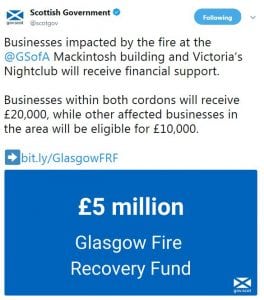 This week Economy Secretary Derek Mackay announced that businesses impacted by the fires at the Glasgow School of Art Mackintosh building and Victoria's Nightclub will be able to access a fund up to £5 million.
The Scottish Government will make the additional funding available to Glasgow City Council for distribution to businesses within the security cordons, and to those in the Sauchiehall Street area who can demonstrate hardship as a result of the impact of the fires.
All businesses within both the Glasgow School of Art and Victoria's cordon will receive £20,000 of direct financial support, with other businesses in the area who have been impacted by a fall in footfall eligible for £10,000 of support.
Economy Secretary Derek Mackay said:
"The sheer scale and lasting effects of the fires on those involved are becoming clear and it is important that businesses are given financial support to help them through this very challenging time. This funding will also help minimise the impact on the economy of the city as everyone involved works to help businesses and residents return to their premises as quickly and safely as possible.
Buchanan Wharf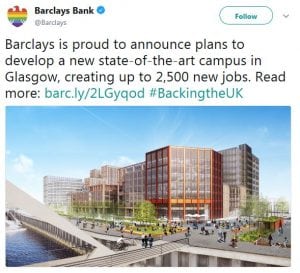 First Minister Nicola Sturgeon welcomed the announcement that Barclays plans to develop a new campus at Buchanan Wharf in Glasgow. The new campus, which included £12.75million from Scottish Enterprise will create 2,500 new jobs in the heart of Glasgow.
First Minister Nicola Sturgeon said:
"This is a project that will be transformational for Glasgow, creating up to 2,500 new jobs in the heart of the city.
"The new campus will strengthen Glasgow's financial services sector and shows Scotland continues to be a highly attractive location for inward investment.
"I am particularly pleased that as part of this investment, Barclays has committed to employing local people who often face barriers into work, including those with disabilities and young people."
Manufacturing
Innovation Minister Ivan McKee visited the Advanced Forming Forming Research Centre this week. Manufacturing is crucial to Scotland's long term economic future which is why the Scottish Government is investing £48million to develop a National Manufacturing Institute for Scotland to help manufacturing businesses throughout Scotland become world leaders in innovation.
The Scottish Government will invest £48 million in NMIS with £8 million from the University of Strathclyde. This is in addition to the £8.9 million announced in June 2017 for the Lightweight Manufacturing Centre as a first step towards the wider centre. Renfrewshire Council will provide a further £39.1 million through the Glasgow City Region Deal to support wider infrastructure work at the site.
Watch a video of Mr McKee's visit here.
Engagement
Business Minister Jamie Hepburn has been busy meeting with organisations to discuss what steps the Scottish Government is taking to support business, fair work and to stimulate economic growth.
Here is a snapshot of some of his meetings this past week.
Comments