Scotland's Economy
This week – 03/08/18
August 3, 2018 by taylorscott No Comments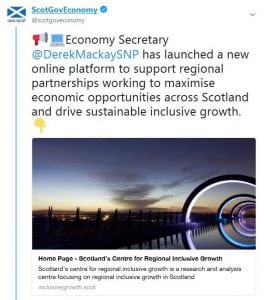 Scotland's Centre for Regional Inclusive Growth
To support  regional partnerships working to maximise economic opportunities across Scotland and help drive sustainable inclusive growth, Economy Secretary Derek Mackay launched a new online platform.
Scotland's Centre for Regional Inclusive Growth will develop the evidence base for regional economic decision-making, and will support our regional economies within a framework that recognises the respective roles of the Scottish Government and its agencies alongside those of local government, the private sector and the increasingly important social economy too.
SCRIG will better enable our regions to collaborate with one another and to compete internationally. The Inclusive Growth Diagnostic will make a wealth of regional level data available, and our National Economic Asset Register will offer the ability to draw upon our existing strengths, and draw upon our huge economic potential.
The launch of SCRIG is a step towards a Scottish economy which leaves no one – and no place – behind. This is a time for strong regional economies and SCRIG will help regional partners design, develop and deliver the Inclusive Growth which will mark Scotland out as an outstanding place in which to live, work, play and invest. – Derek Mackay
Digital Economy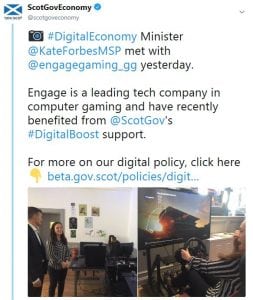 Technology is transforming the way we do business which is why the Scottish Government is supporting businesses to achieve their full potential in the digital world.
This week, the new Minister for the Digital Economy, Kate Forbes, was in Aberdeen to meet with a number of companies that have transformed the services they offer by investing in their digital capabilities.
The Minister visited Engage Gaming, a leading tech company who have benefited from the Scottish Government's Digital Boost support which helps employers upskill their workforce and improve their digital skillsets.
Supporting the Rural Economy

This week, the new Minister for Trade, Investment and Innovation, Ivan McKee, held talks with Highlands and Islands Enterprise.

Meeting with the Chief Executive, Charlotte Wright, the Minister discussed some of the work the Scottish Government is undertaking through our national agencies to ensure regional economies have the support they need to meet the needs of our rural economy.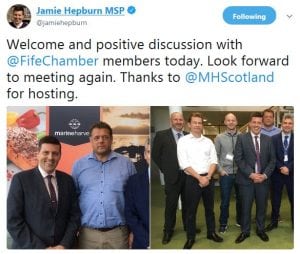 Supporting regional economies
Business and Fair Work Minister Jamie Hepburn was in Fife this week to meet with local businesses.
At a meeting with members of Fife Chamber of Commerce, Mr Hepburn discussed what action the Scottish Government is taking to support and grow regional economies.
Comments