Scotland's Economy
Explaining GERS
August 28, 2018 by kateforbes 5 Comments | Category Economy, forestry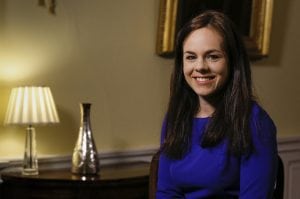 Last week the Scottish Government published its annual Government Expenditure and Revenue Scotland (GERS) report, which is now in its 25th year. As the various media reporting highlights, there is different (and often confused) reporting and interpretation of what the numbers in GERS actually mean. As Minister for Public Finance in the Scottish Government, my role is to manage spending on devolved areas (health, education, justice etc.) and ensure that the Scottish Government budget balances within the agreed UK fiscal framework.
GERS, in contrast, covers all public sector expenditure in Scotland, including areas controlled by the UK Government such as pensions, as well as expenditure spent on behalf of Scottish residents on areas such as defence, foreign affairs, aid and debt interest payments. Total public sector spending in 2017-18 was £73 billion with Scottish Government spending accounting for £27 billion of that total.
On the back of continued economic growth and rising revenue, Scotland's deficit fell again in 2017-18. GERS also estimates that the total revenue in Scotland reached £60 billion for the first time ever, including a geographical share of North Sea revenue of £1.3 billion and underlining the fact that we have a productive and growing economy.
On-shore revenues have also increased by £2 billion, alongside an increase in oil revenues of £1 billion. This comes on the back of recent analysis by the Oil and Gas Authority that production this year is expected to be 18% higher than in 2014. Separately, the latest Fraser of Allander Oil and Gas survey also shows that net confidence of oil and gas contractors is at the highest level since spring 2013.
These revenue figures confirm the improving performance of the Scottish economy. Our economy grew twice as fast as the UK in the most recent quarter, while unemployment remains close to its record low and confidence is returning to the oil and gas sector.
With recent GDP, labour market, exports and productivity figures all improving, GERS shows that our commitment to sustainable economic growth is the right one.
In my Ministerial role, the performance of the economy and public finances are crucial in ensuring we raise enough from our devolved taxes such as Income tax to ensure we fulfill our obligations with regard to public services in Scotland. It is also crucial that we have a resilient, competitive and inclusive economy that works for everyone, including our rural economy.
That is a key priority of the Scottish Government and although GERS relates to all revenues and expenditure, which I believe Scotland would be better placed to control, my immediate focus is on our forthcoming budget and ensuring we maintain a resilient economy and public finance in the face of the risk of a no deal Brexit and continued austerity from the UK Government.
Kate Forbes is the Minister for the Digital Economy and Public Finances.
Comments