Scotland's Economy
This week – 24/08/18
August 24, 2018 by taylorscott No Comments | Category Business, Economy, Employment
GERS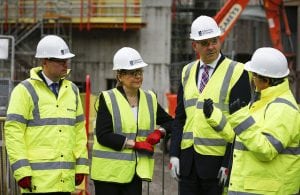 Scotland's public finances are continuing to improve, with total revenue reaching £60 billion, as the economy grew twice as fast as the UK at the start of 2018.
According to the Government Expenditure and Revenue Scotland (GERS) figures published this week, onshore tax revenue increased by £2 billion in 2017-18, while offshore revenue increasing by more than £1 billion.
Growth in revenues and the economy resulted in an overall improvement in the public finances, with both the current and net fiscal deficits falling.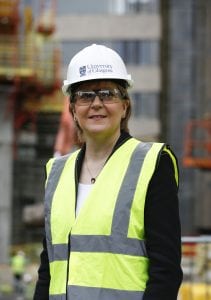 First Minister Nicola Sturgeon and Finance Secretary Derek Mackay visited Glasgow University to welcome its pledge to spend £1 billion on campus infrastructure over the next ten years, saying this commitment demonstrates the confidence that exists in the Scottish economy.
The First Minister said:
"On the back of continued economic growth and rising revenue, Scotland's deficit fell again in 2017-18.
"Looking at the wider economic picture, these figures – along with recent Labour Market Stats, Labour Productivity and GDP figures – show that Scotland is on the right trajectory.
"It also demonstrates that our commitment to sustainable economic growth is the right one and we will continue to stimulate our economy in this way to reduce the deficit."
Labour Productivity Statistics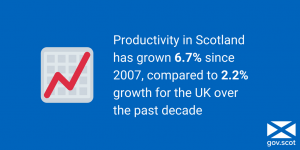 Another week, another set of statistics. This week Labour Productivity Statistics found that productivity in Scotland increased by 1.7% in the first quarter of 2018.
Scottish productivity has grown faster than the UK's over the past decade, with growth of 6.7% since 2007 compared to just 2.2% for the UK as a whole.
The Scottish Government are supporting business and continuing to grow Scotland's economy by investing a record £2.4 billion in enterprise and skills, £4 billion in new infrastructure and delivering the most competitive package of rates relief in the UK, including the Small Business Bonus, which to date has saved Scottish firms almost £1.5 billion.
ScotRail
Michael Matheson, Cabinet Secretary for Transport, Infrastructure and Connectivity announced that a public sector body will be able to bid for next ScotRail franchise.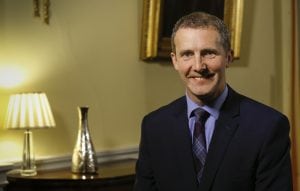 Mr Matheson said:
"Our consistent view over many years is that there ought to be a level playing field between the private and public sector in bidding for rail franchises. We secured the right for a public sector operator to bid for a rail franchise in Scotland, after being denied by previous UK Governments.
"Identifying a public sector body to make a bid has not been easy. It was vital to consider a range of scenarios as we want to strengthen competition and achieve best value for the public purse, while delivering continuous service improvements.
"It is important for any public sector bidder to have the appetite to bid; the capability and capacity to see the bid through; and the ability and resources to make the franchise a success."
For more, click here.
Strengething trade links with Ireland
Minister for Trade, Investment and Innovation, Ivan McKee, spend time in Dublin this week. During his visit, Mr McKee met with Pat Breen TD, Minister of State for Trade, Employment and Business and representatives of the British Irish Chamber of Commerce.
As a vital partner, trade was high on the Minister's agenda as he met with businesses in Ireland – many of whom trade with Scotland – to discuss our future trading relationship in light of Brexit.
Ireland is a valued trade partner for Scotland and our sixth biggest export market with more than 100 Irish companies currently investing in Scotland. We see unlimited potential for future development and that is why we established an investment and innovation hub in Dublin last year.
The ties between Scotland and Ireland are more important than ever which is why the Scottish Government is building on the longstanding cultural, economic, and political links that exist between our countries.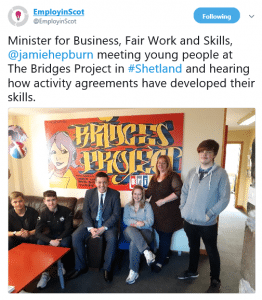 Fair Work in Shetland
This week, Minister for Business, Fair Work and Skills, Jamie Hepburn, undertook a series of engagement in Shetland.
During his visit, Mr Hepburn met with employers, Jobcentre Plus and social enterprise groups to learn more about how devolved employment services and work on Developing the Young Workforce are making a difference to people in Shetland.
The Minister visited Bridges Project, a youth service organisation providing Activity Agreements for young people and visited a social enterprise and charity, COPE, which provides employment and skill development for adults with learning disabilities.
Comments