Scotland's Economy
This week – 31/08/18
August 31, 2018 by taylorscott No Comments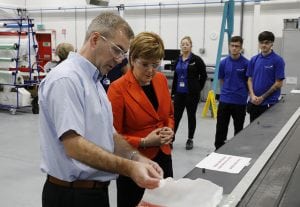 R&D funding for Prestwick
First Minister Nicola Sturgeon confirmed £4.8 million funding for Spirit AeroSytems new open access Aerospace Innovation Centre at its manufacturing site in Prestwick.
Innovation within the new centre will focus on the development of the next generation of aircraft. It will also help develop the technology for composite materials and automated assembly used in the industry.
The investment will create 40 high-value jobs and leverage significant capital investment in infrastructure and equipment. Over the next decade, the facility will further enable growth for industry-leading aerospace technologies and innovations and has the potential to create more manufacturing jobs. Read more here.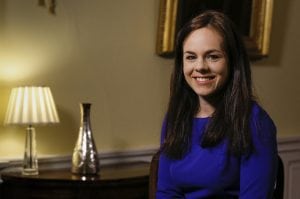 Investing in Scotland's Digital Future
This week Digital Economy Minister Kate Forbes announced that £2.7million Scottish Government investment will help roll out a new £6million 'Internet of Things Scotland Network'.
The new network, called IoT Scotland, will provide a wireless sensor network for applications and services to collect data from devices and send that data without the need for 3G/4G or Wi-Fi, supporting businesses develop new and innovative applications, changing the way they work. The network will enable all businesses to have the ability to monitor the efficiency and productivity of their assets, equipment, scheduling maintenance and improving production.
Ms Forbes said the IoT Network will make Scotland a natural test bed for innovation in connectivity. Read more here.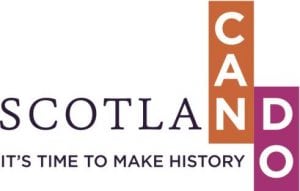 The next generation of entrepreneurs
We want Scotland to be a country that invents, designs and manufactures the technologies and products of the future, a world-leading entrepreneurial and innovative nation.
To help realise this ambition, Business Minister Jamie Hepburn announced a £650,000 funding package to support the next generation of entrepreneurs. Building on Scotland's CAN DO vison, the investment will encourage more people set up new businesses and social enterprises and for the government itself to be more entrepreneurial.
The Prince's Trust will receive £400,000 to strengthen and advance their Enterprise Programme which provides a comprehensive range of employability and enterprise support for young people in all areas of Scotland. Scotland's Enterprising School's, our national platform to foster enterprising mind-sets in schools, will also receive £250,000 funding to further develop the programme and support all partners involved in school enterprise to translate the importance of entrepreneurial mind-sets through the Curriculum for Excellence and Developing the Young Workforce.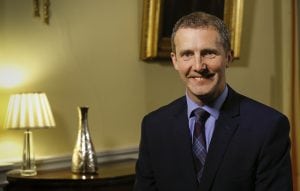 Keeping ferries shipshape
Scotland's lifeline ferry services are to receive £3.5 million from the Scottish Government to reduce the risk of vessels breaking down and to return them to service quicker if they do.
The fund will be used to start a programme of obsolescence upgrades during the overhaul period this winter and to procure replacement parts for obsolete equipment. These parts will be installed at the next appropriate maintenance opportunity.
Announicng the funding, Transport and Infrastrucure Secretary Michael Matheson said:
"The funds will be used to upgrade or replace key systems and equipment on the vessels. This will be tackled on a priority basis to avoid potential vessel breakdowns and delays to the ferry service and customers.
"During the forthcoming overhaul period this winter, CMAL and CalMac will initiate the obsolescence programme of upgrades and spare part procurement. This will provide future resilience providing, in the longer term, increased vessel reliability and availability."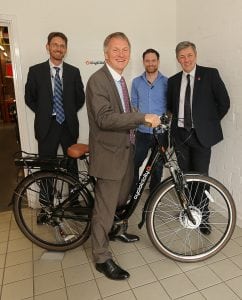 High tech future for Fife
Investment Minister Ivan McKee announced that two companies, Renovite Technologies and Cyclotricity, are creating 40 new jobs in Dunfermline and Glenrothes after receiving Regional Selective Assistance (RSA) grants from Scottish Enterprise.
The £370,000 of investment support will bring new high tech jobs to Fife, helping to grow the local economy and build on opportunities that come from established strengths in innovation and technology.
Mr McKee said:
"We want Scotland to be the best place to live, work and invest so we are committed to growing the economy in a sustainable and inclusive way. These awards will bring new high tech jobs to Fife, helping to grow the local economy, thanks to £370,000 of investment support.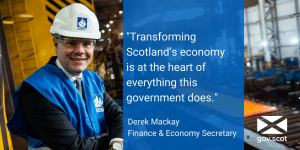 Economic priorities
Talking growth, progressive taxation and first jobs, Finance and Economy Secretary Derek Mackay has outlined his priorities for Scotland's economy in Holyrood Magazine.
Read the Q&A here.
Skills Development Scotland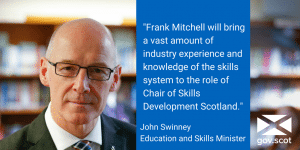 This week Deputy First Minister John Swinney announced the appointment of Frank Mitchell as Chair of the Skills Development Scotland Board.
Mr Mitchell, the CEO of SP Energy Networks, will bring a wealth of experience to the role and ensure Skills Development Scotland continues to play a critical role in supporting the Scottish Government's overarching ambition of enhancing inclusive, sustainable growth and its defining mission of improving education.
Comments