Scotland's Economy
This week – 21/09/18
September 21, 2018 by taylorscott No Comments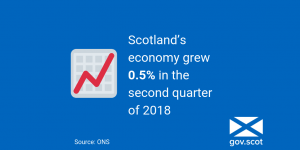 Scottish growth pulls ahead of the UK
The Scottish economy grew by 0.5% during the second quarter of 2018, according to statistics announced this week by Scotland's Chief Statistician.
In the first half of this year, Scottish GDP grew by 0.8% compared to 0.6% in the UK. This growth in the first six months of 2018 is greater than the 0.7% growth forecast made by Scottish Fiscal Commission for 2018 as a whole.
Finance and Economy Secretary Derek Mackay welcomed the figures saying they show "Scottish growth is both pulling ahead of the UK and outperforming the official growth forecast." He said: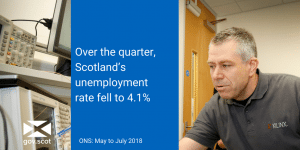 "The Scottish Government is focused on building on the country's strong economic foundations, supporting businesses to stimulate growth jobs and investment. Our Programme for Government includes an ambitious package of measures to ensure we are delivering for the economy of today and ready to seize the opportunities of the future.
"With an unemployment rate of 4.1% and a higher employment rate for women and young people compared to the UK, confidence remains high in our labour market. The Royal Bank of Scotland PMI for August also shows private sector output at a four year high."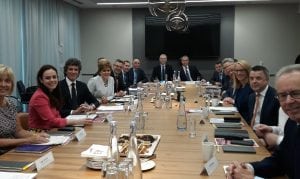 Financial Services Advisory Board
First Minister Nicola Sturgeon, Finance and Economy Secretary Derek Mackay and Minister for Public Finances Kate Forbes hosted the Financial Services Advisory Board this week.
The board met to discuss upcoming priorities, challenges and opportunities for financial services in Scotland.
Infrastructure investment map
A new electronic map showing some examples of the investment in infrastructure projects since 2007 has been launched by Cabinet Secretary for Transport, Infrastructure and Connectivity Michael Matheson.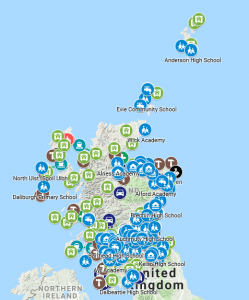 It comes after the Programme for Government set out the most ambitious long-term level of infrastructure spend ever in Scotland, with a commitment to invest an additional £7 billion – over and above existing plans – on schools, hospitals, transport, digital connectivity and clean energy by 2026.
To highlight the Scottish Government's infrastructure commitments, Michael Matheson visited Forth Valley College's new Falkirk campus. The college has received £65 million Scottish Government investment to help with construction and is one of a number of projects listed on the Infrastructure Projects 2007-2018 map.
Michael Matheson said:
"Our infrastructure will continue to see substantial investment, and it is our mission to steadily increase annual infrastructure investment so it is £1.5 billion per year higher at the end of the next Parliament than in 2019-20.
"Good infrastructure is essential to our economy and wellbeing and for the delivery of efficient, high-performing public services. We want to do more to recognise the value of our infrastructure investment and the new map shows examples of the support the Scottish Government has provided the length and breadth of the country.
"We will continue to make the investment in our infrastructure that is required to support economic growth, boost international competitiveness and prepare for the uncertainty of Brexit."
GCU migrant skills hub
Migrants in Scotland are to get help matching their skills to secure work, with the launch of a new project led by Glasgow Caledonian University (GCU). The pilot, which is backed by £158,207 Scottish Government funding, aims to set up Scotland's first migrant and refugee skills recognition and accreditation hub.
Business, Fair Work and Skills Minister Jamie Hepburn said:
"Access to employment is pivotal to the process of settlement and stability for migrants, however too often people face multiple barriers to enter the labour market and even greater challenges entering at a level commensurate with their skills and experience.
"To address the challenges associated with the training and employment of minority and ethnic people and refugees, I am delighted that the Scottish Government is able to provide Glasgow Caledonian University with £158,207 for 2017-18 and 2018-19 to undertake this project."
Travel investment in the West of Scotland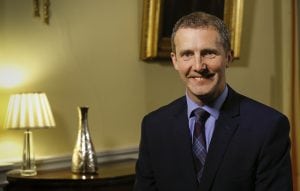 This week Transport Secretary Michael Matheson launched Online Survey to hear from people living or working in the south west of Scotland on problems and opportunities associated with the transport network, as Transport Scotland start the process of planning transport investment for the next 20 years.
The survey is part of the work going on to produce a South West Scotland Transport Study which is considering possible improvements to road, rail, public transport and active travel on key strategic corridors in the region. Findings from the study will then be considered as part of the second national Strategic Transport Projects Review.
Cabinet Secretary for Transport, Infrastructure and Connectivity, Michael Matheson said:
"This study is a great example of collaboration between national, regional and local government to really get to the heart of how transport affects the lives of everyone living, working or travelling through South West Scotland."
Comments