Scotland's Economy
This week – 14/09/18
September 14, 2018 by taylorscott No Comments | Category Economy, innovation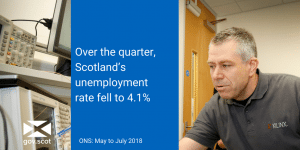 Labour Market Statistics
Published on Tuesday, the labour market statistics released by the ONS for May to July 2018, showed that Scotland's unemployment rate fell over the quarter to 4.1%.
On employment for women and young people, Scotland continue to outperform the UK with an employment rate of 71.5% for women, higher than the UK rate of 71.0%, and an employment rate for young people of 56.2%, higher than the UK rate of 54.7%.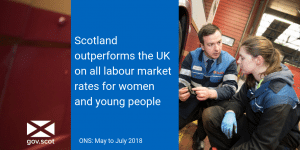 Compared to the UK we also have lower rates of unemployment and inactivity for women and young people.
Business Minister Jamie Hepburn said:
"We continue to work to create the right economic environment for job growth. Our ambitious economic strategy outlined in last week's Programme for Government includes commitments on the Scottish National Investment Bank and Manufacturing Institute, while we are also committed to the biggest infrastructure spending Scotland has ever seen.
Oil and Gas sales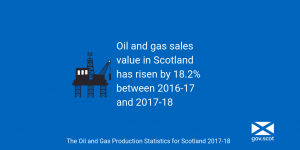 The value of Scotland's Oil and Gas has risen by 18.2% between 2016-17 and 2017-18, according to new figures. The Oil and Gas Production Statistics for Scotland 2017-18, released today also shows that despite the slight decrease of 1.7% in the latest year, production of oil and gas remains 23.1% higher than the level recorded in 2014-15.
Energy Minister Paul Wheelhouse said:
"I welcome the findings in the report which show the sector has seen an 18.2% increase in sales value. These figures reflect the increased price of oil and gas on the global markets and show confidence is continuing to return to the sector."
AWPR's big weekend draws to a close
Thousands have visited the GoNorthEast road festival last weekend, to celebrate the transformational Aberdeen Western Peripheral Route/Balmedie to Tipperty (AWPR/B-T) project.
Watch this and find out what you missed! https://player.vimeo.com/video/289843158
Cabinet Secretary for Transport, Infrastructure & Connectivity Michael Matheson said:
"It has been a wonderful weekend of activities to mark the AWPR/B-T project. I visited the festival on Saturday and it was great to see so many people of all ages enjoying the displays and taking the unique chance to get up close with a section of this impressive new road.
"Over the course of the weekend we seen thousands of people visit, with 1,500 cyclists taking the chance to travel an 18 km loop of the new road on Sunday morning. The popularity of the events reflects the level of interest in this project across the region.
"We are looking forward to the next key section of this project opening to traffic in the coming weeks. This project is a genuine game-changer and will revolutionise transport in and around Aberdeen. We are approaching the home straight in terms of completion and this next phase will provide a key step towards improved journey times, reliability, access to markets and improved connectivity across the region and beyond."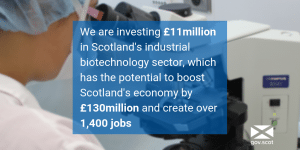 Innovation
Investment Minister Ivan McKee announced that the Scottish Government, through our national agencies Scottish Funding Council, Scottish Enterprise and Highlands and Islands Enterprise, is investing £11.1million in Scotland's national innovation centre for industrial biotechnology to drive forward Scotland's Industrial Biotechnology sector.
Comments