Scotland's Economy
Delivering world class infrastructure for Scotland
October 19, 2018 by paulobrien 2 Comments | Category Broadband, Broadband, Energy, Investment, Public Services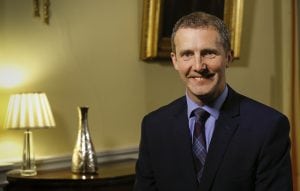 When the First Minister announced a reshuffle of her Cabinet in the summer I was honoured to take on the role of Cabinet Secretary for Transport, Infrastructure and Connectivity. The creation of this portfolio highlights the importance we as a Government place on investment in infrastructure as a key driver of economic growth. As the title suggests, it's a broad remit, which goes beyond focusing solely on transport, and growing Scotland's infrastructure is critical for future economic prosperity.
We know the value of investing in infrastructure goes beyond modern homes, schools, hospitals and world-leading engineering projects such as the Queensferry Crossing. It unlocks economic potential, supports jobs and allows our businesses and communities to flourish.  And it plays a crucial role in connecting our people, businesses and communities. Research by the International Monetary Fund, the Organisation for Economic Co-operation and Development, the World Bank and the EU all draws the conclusion that infrastructure investment is a key driver of productivity growth.
That's why this year's Programme for Government sets out the most ambitious long-term level of infrastructure spend Scotland has ever seen. We are increasing infrastructure investment to £1.5 billion per year higher by 2025-26 than in 2019-20.
Scottish Government infrastructure investment will increase by an additional 1% of current Scottish GDP and to achieve it we will need to continue to innovate in our models for investment and work across the public sector. It will be a step change in infrastructure investment that will deliver a long-term boost to Scotland's economy. It will be direct investment in our housing, schools, hospitals, transport and digital infrastructure.
The National Transport Strategy is looking at policies to address the challenges facing our transport system and how we can take advantage of opportunities to create the kind of transport system we want for the whole of Scotland. The Strategic Transport Project Review will set out Scotland's transport infrastructure investment priorities, taking a whole systems approach to deliver the outcomes we are seeking for Scotland's economy, climate change,  health and tackling inequalities. And most importantly it's an investment that will be enjoyed by future generations.
While the levels of investment look impressive as numbers, spending figures can look quite abstract. In real terms, we'll create at least 20 electric towns across Scotland; make £20 million available to enable more people and businesses to make the switch to electric vehicles; add more than 500 new ultra low emission vehicles to public sector fleets; add over 100 green buses to the fleet through the £1.7 million Green Bus Fund; and much more.
The modernisation of our infrastructure is also progressing. We are investing £25 million to improve access to 4G mobile connectivity, whilst looking to the future, we are developing a forward-looking 5G strategy for Scotland.  We have exceeded our target of 95% fibre broadband coverage across Scotland and, building on that, an initial investment of £600 million will see a future-proofed fibre network reach some of our most challenging areas, whilst ensuring superfast speeds for every home and business in the country. 
The Programme for Government commits to a mission to raise Scotland's infrastructure spending to internationally competitive levels – it also underlines our progress on revolutionising our digital infrastructure and helps our people and businesses prepare for the work of the future.
Comments