Scotland's Economy
This week: 22/02/19
February 22, 2019 by charlottebarbour No Comments | Category Business, Economy, Employment
Economic Impact of 'No Deal' Brexit
A 'No Deal' Brexit could have a dramatic impact on Scotland's economy, with the potential for national Gross Domestic Product (GDP) to fall by up to 7%, according to a new report by the Scottish Government's Chief Economist.
The paper, 'No Deal' Brexit – Economic Implications for Scotland, sets out two potential 'No Deal' scenarios, one of which would see short term disruption to supply chains lasting for a number of months, with the second scenario looking at an extended period of disruption.
Stage 3 Budget Bill
The Scottish Parliament has approved the 2019-20 Scottish Government Budget which provides £42.5 billion of investment in Scotland's public services and economy.
Find out what Derek Mackay's budget delivers for Scotland.
Labour Market statistics
Scotland's labour market statistics from October-December 2018 showed:
2,685,000 people are now in work in Scotland
Scotland's employment rate rose by 0.6 p.p. to 75.5%
Unemployment in Scotland fell to 3.5%, the lowest rate on record
Scotland's female employment rate is 71.8%, higher than UK rate of 71.4% #
Scotland's youth employment rate is 61.6%, higher than UK rate of 55.8%
Unemployment rates for Scotland's women (2.8%) and young people (7.6%) are at record lows
AWPR opened
The final section of the Aberdeen Western Peripheral Route between Craibstone and Parkhill opened to traffic this week, ensuring road users across the North East will have access to the entire 36 mile (58km) route.
This new 4.5 mile (7.5km) section of road will link the southern Craibstone to Stonehaven and Charleston section with the Parkhill to Blackdog section in the north.
Equal pay
Business, Fair Work and Skills Minister Jamie Hepburn joined BME (Black and Minority Ethnic) research findings to demonstrate the Scottish Government's commitment to reducing negative experiences in the labour market.
Digital Xtra Fund
Public Finance and Digital Economy Minister Kate Forbes visited Andertston Primary School to launch the fourth round of the Digital Xtra Fund, which has awarded grants to 22 initiatives to help young people in Scotland become the next generation of digital experts through high quality extracurricular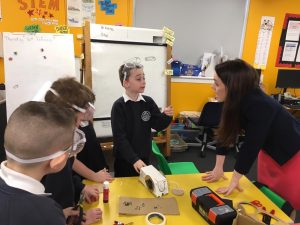 activities.
Tags: business, digital, economy, labourmarket, lms
Comments